Welcome Lauren Scott!
Associate Pastor for Youth and Families, Riverside Presbyterian Church
Our presbytery is pleased to introduce Lauren Scott as the new Associate Pastor for Youth and Families at Riverside Presbyterian Church (RPC) in Jacksonville. Her first Sunday at RPC was July 3, 2022, so she is just getting started! Lauren will be ordained in the fall by the Florida Presbytery where she was a candidate for ministry. After being ordained, she will immediately transfer into the Presbytery of St. Augustine and be installed at Riverside Presbyterian Church. We will share ordination details when plans are finalized.
Having been born and raised in the Presbyterian Church, Lauren received her spiritual foundation as a member of Trinity Presbyterian Church in Pensacola, where they nurtured her faith and spirit of servanthood. After receiving her Bachelor of Science in Family and Child Sciences (with minors in Religion and Biology) from Florida State University in May 2018, Lauren continued listening to her spiritual call and enrolled at Columbia Theological Seminary.
In May 2022, Lauren received dual degrees of Master of Divinity and Master of Arts in Practical Theology (Christian Education / Faith Formation concentration). She received her degrees just one day before RPC's congregational meeting approved her call as Associate Pastor. As part of her degree programs, Lauren served in youth ministry for two Presbyterian churches in Atlanta. She was challenged to help the youth group re-engage with their presbytery and the denomination through participation in a presbytery middle school retreat.
Montreat Conference Center has been an important place in Lauren's formational journey as she spent several summers leading recreation activities or in small group leadership for their summer youth conferences. In June 2022, Lauren shadowed the Youth Conference Directors in preparation to serve as Co-Director of the Montreat Youth Conference 2023. No doubt she will share her enthusiasm for Montreat with the RPC youth group, especially for the group's planned youth conference trip from July 10-16!
In addition to her ministry at Montreat, Lauren has served our denomination in several capacities including as a Young Adult Advisory Delegate to the 223rd General Assembly, national and regional service with the Association of Presbyterian Church Educators (APCE), board member for the Presbyterian Youth Workers Association, and as a Care Team Member for the 2019 Presbyterian Youth Triennium.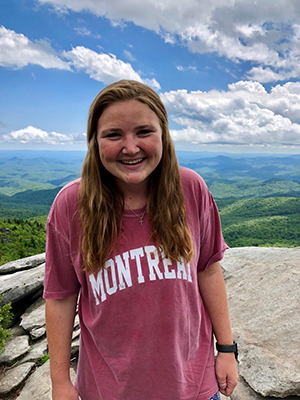 As Lauren and her puppy Georgia settle into Jacksonville, she is looking forward to exploring local coffee shops and the beaches of Northeast Florida … which are different from the Gulf Coast!  Lauren says that she "is looking forward to getting to know the people at Riverside and those in the Presbytery over meals, on walks, at youth group, on trips, in worship, and all the places in between. I am excited to continue discerning how my gifts may be used to serve the Church while journeying alongside others as they discern how their gifts can be used to serve the Church too."
Brian Lays, Pastor of Riverside Presbyterian Church, anticipates that "Lauren will be a wonderful addition to the presbytery, as it continues to focus on youth ministry as a strategic priority. Lauren brings both a love for the church as a whole and a love for youth in particular that will ensure the youth with whom she works are integrated into the life of the larger church. Her enthusiasm and fresh ideas will provide valuable direction and insight for the larger church."
The Presbytery of St. Augustine looks forward to celebrating Lauren's ordination milestone! We are excited to see how her energy and leadership fits into the ministry at Riverside Presbyterian Church and future involvement within our presbytery.
Welcome Lauren!