Art 4 All and Hope House at Fort King Presbyterian Church
Fort King Presbyterian Church in Ocala has had a long commitment to the arts. Their community-based Art 4 All ministry offers an opportunity for an intergenerational community to gather to create art together. They have also recently opened Hope House on the Fort King campus, which is a space designed to display art and gather year-round.
Art 4 All
Art 4 All is a chance for people of all ages, faiths, and cultures to come together for a time of creativity and fellowship. The organizers believe that art is a wonderful tool for expression and connection with one another; a way of reflecting the beauty of god's world, and of giving to others.
With this belief guiding their arts ministry, Art 4 All began in 2016 and over the years has served about 500 members of the community. There are many regular / repeat participants so it's hard to get an accurate count for the total number served! One Sunday afternoon per month, the organizers plan several different projects, usually related to the season or a particular holiday.
Activities run the gamut from children's craft projects, Zendoodle, Easter egg decoupage, rock painting, decorating clay pots, watercolor painting, pumpkin painting, tissue paper flowers, beading, jewelry making and more! Their July activities are being promoted as Christmas in July to encourage participants to make hand-made Christmas gifts. When appropriate they use recycled / upcycled supplies for their art projects, which reinforces their commitment to being an Earth Care Congregation. Performing arts are also incorporated whenever possible, including drumming, step dance classes, and tai chi.
During COVID, when they couldn't gather in person, organizers created do-it-yourself kits of different art projects, and arranged for "drive by" pick up of the materials. Artwork was shared via email and Facebook to maintain some community connections. They also provided the opportunity to decorate note cards which were then sent to members of the church or others in the community.
As you can see from the photos below, the range of art and community projects is phenomenal!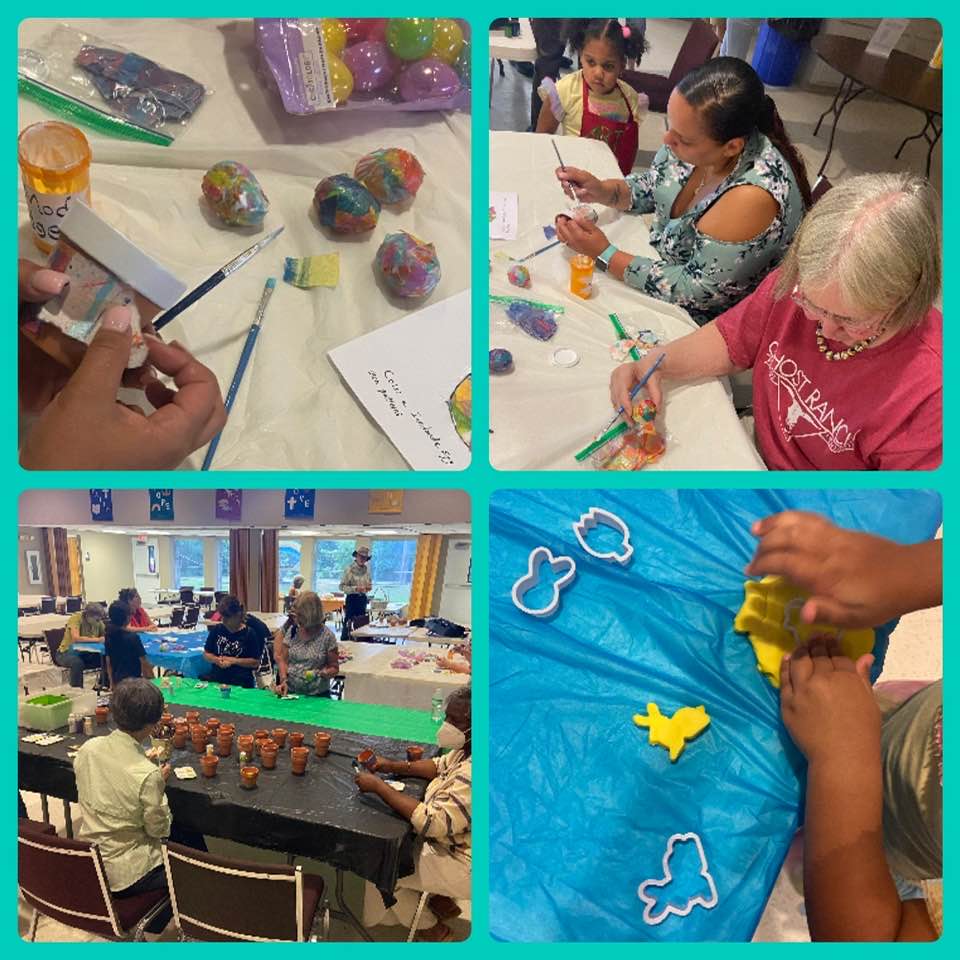 Art 4 All has also "taken the show on the road" by participating in community activities like after school programs, the Martin Luther King Celebration, and the Juneteenth Celebration. These events often provide opportunities to live out their Matthew 25 commitments. In 2018, they planned an outreach trip to Jamaica where, among other activities, they offered arts programming to the Jamaican community where they were staying.
Art 4 All is currently led by Susan Jensen, an artist that works with polymer clay beads, sculptures, jewelry, and prayer beads. She is also a photographer and painter. Susan sees her art as a reflection of the image of God in each of us. Joanne Ohlman has also been active in Art 4 All but has now shifted her attention to the Hope House.
Hope House
Hope House is an old building on the Fort King grounds that has been completely rehabilitated and renovated to serve as a community gathering space, and a place to display art year-round. The house has artwork integrated throughout the building, including a room which displays slow stitching, and offers space to practice this meditative and mindful practice using fabric and fabric and hand stitching. A collaborative floor covering with a variety of painted sunflowers was created by a group of step dancers. They plan to offer a variety of small group arts classes, creative writing, slowing stitching, drumming circles, and other activities. The renovation was a community effort, and the results are stunning as seen in the photos below!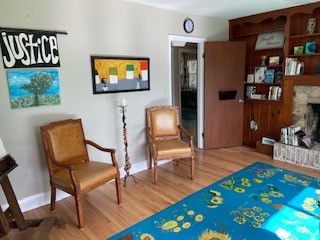 The "hope" for Hope House is that the arts will be integrated into the campus and activities of Fort King Presbyterian Church for generations to come!
Thanks to Susan Jensen and Joann Ohlman.