Local Food Ministries
Churches in our presbytery are strong supporters of local food ministries. Whether it is collecting food for local food banks, hosting a food pantry, providing volunteers for programs such as Meals on Wheels, filling backpacks with child-friendly food to send home with food insecure students, or other hunger ministries, our presbytery church members are generous! We are living out our Matthew 25 commitment to actively engage in ministry which addresses systemic poverty.
Three of our church's food ministries are featured in the following stories, but there are so many more ministries that we hope to profile in future website articles. We offer brief descriptions of some of these programs. Please email details about other local food ministries to Marigrace Doran, and she will add them here or perhaps in a future story!
---
Other Local Food Ministries
Support of Local Food Banks / Food Pantries
It looks like all of our churches collect food for local food banks and food pantries, whether it is through filling a bin with specific food items, regular food drives, or filling special holiday gift baskets. Some of the local food banks are supported by several of our congregations. Here are some of the larger community food banks:
Blessings in a Backpack
Many of our congregations participate in a Blessings in a Backpack ministry (with some variations on the name of the local programs). This ministry fills backpacks with child-friendly nutritious food which are distributed to children identified as food-insecure (usually on Fridays) so that they have food on the weekends. Visit the Blessings in a Backpack website for more information. Similar programs operate in various communities, but the purpose is similar.
Meals on Wheels / Meals for Seniors
Meals on Wheels is the largest national community program for feeding the elderly, and is a program which addresses not only hunger but also isolation. Community programs vary but in general, meals are prepared in centralized kitchen(s), with local congregations providing a network of volunteers to pick up the meals and deliver them to the seniors in need and checking on their welfare. For many isolated seniors, their daily delivery may be the only personal contact they have, so the meal delivery is a vital connection. Visit the Meals on Wheels America website to find a community program and get involved. Several of our congregations provide meals for seniors on a regular basis, usually through a network of churches rotating responsibility for preparing and/or distributing the meals.
Soup Kitchens
We use the term "Soup Kitchens" generically to include the wide variety of food ministries which provide prepared meals to the homeless or others in need in the community. Networks of volunteers from local congregations, businesses, and civic organizations prepare meals and serve them to the community, either gathered together, or more recently in a "meals to-go" model (due to COVID safety protocols).
Presbyterian Hunger Program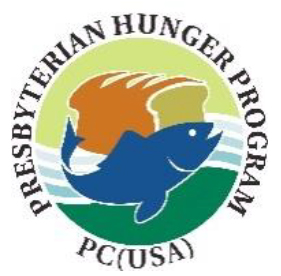 Complementing the work of local congregations, the Presbyterian Hunger Program offers resources for alleviating hunger and addressing its root causes. The program recognizes hunger as an extremely complex phenomenon with economic, political, environmental and social causes, and works to address the "root causes" that keep people hungry and impoverished. They offer numerous resources for congregational education about hunger issues.
It is worth repeating … our congregations are generous! Thank you for your commitment to feeding the hungry in the many ways that work for your congregation.