Preschool Art Camp at St. Giles Presbyterian Church
St. Giles Presbyterian Church and Preschool hosted a week-long Art Camp for children ages 2-7 as a fundraiser for their preschool. The art camp was led by Jessi Higginbotham and preschool teacher, Andrea Martin. They wanted to give kids an opportunity to explore new forms of art as well as get as messy as they want (and are not allowed to do at home). They didn't want to use typical "kid" art supplies like paper plates or popsicle sticks, but rather used materials that were simple but more exciting — like chalk pastels, clay, and watercolors.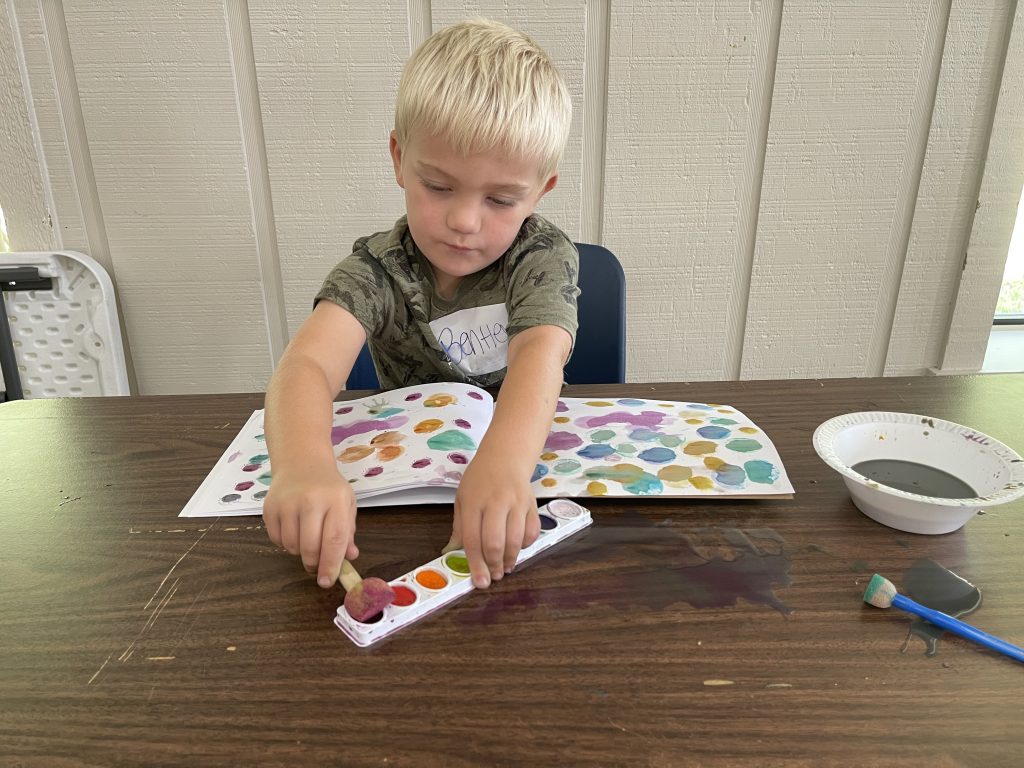 Each day they planned a different project with several side projects for kids who whizzed through the main project. They wanted to give children a space of their own to get creative with few limitations. Sometimes church activities can be so structured and planned out that kids don't often have the opportunity to be truly creative. Throughout the week, they found ourselves saying 'yes' when kids asked if they could do something different. Can we cut up paper and make a pile? Sure! Can we go back to using the watercolors instead of pastels? Of course! This was different from typical art projects in church life.
At the end of the week the children presented St. Giles with a 3-D butterfly quilt mural they made for the church to display.
The church and preschool were brainstorming ideas for how to get information about our preschool out into the community and ideas for fundraisers when Jessi suggested an Art Camp, which Jessi had experience with from another church preschool. Enrollment was opened up to children in their church and preschool as well as the wider community. There were lots of familiar faces as well as new friends.
Jessi pointed out that churches with preschools are always looking for new ways to advertise and reach out to the community. Parents need full time (and beyond) care for their children. Smaller, half day programs often don't work for working parents. St. Giles worked very hard to promote their preschool school during the school year and knew they had to keep the momentum up during the summer. Their Art Camp and Day Camps were not designed to be over the top or expensive. They were designed to provide children and parents with something to do during the long days of summer. They were also not expensive to do and they did not charge much ($75 per kid per week). After speaking with other parents that were paying $300-400 a week for their kids to attend Day Camps all over Orange Park, we wanted to offer an opportunity for kids that was less expensive, just as fun, and maybe a little simpler.
It's obvious that their idea worked and the children had great fun while getting messy with art!
Thanks to Jessi Higginbotham for her assistance with this story.