Art Camp 2022 at Faith Presbyterian Church
For over 20 years, Gayle Bone, a retired kindergarten teacher, ruling elder of Faith Presbyterian Church in Melrose, and a former Presbyterian Women Moderator, hosted summer art camps for community children at the church. After a three-year hiatus due to the pandemic, art camp was busier than ever at Faith from June 13-24. Thirty-eight children (ranging in age from 6 to 16 years old) and one adult enjoyed working on art projects throughout the camp. The groups were divided into sections which met for 90 minutes, with two sections meeting the first week, and one section the second week.
Over the years, Gayle has seen children grow in their artistic skills and confidence, including 26-year-old Hannah who had been in summer art camps since she was five. This year Hannah was Gayle's teaching assistant. Two other former students also assisted with the art projects.
The kids had a blast and all went well. Their artwork reflected their personalities and their own interests. Students start off with drawing the same still life each year. Many parents could see the progression in their child's abilities from year to year. Once they completed the still life, they were free to work on other art projects using a wide variety of art supplies.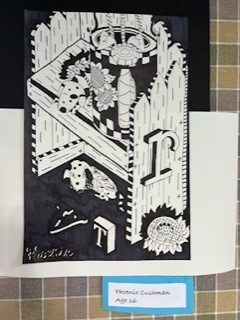 The featured artist for this year's camp was Frida Kahlo, a Mexican painter who was married to Diego Rivera, the famous Mexican muralist. Gayle remembers visiting many of the buildings in Mexico where he was commissioned to paint murals of Mexico's history from the Aztecs to modern Mexico with his simplistic style. On the other hand Frida's style is rather jarring. Much of her life Frida was in physical and emotional pain, and she painted her pain.
After talking about Frida's love of animals and the fact that she painted over fifty self-portraits, the art project for the students was a self-portrait with their favorite animal. They were given instruction on placement of facial features and many of the portraits look much like the children.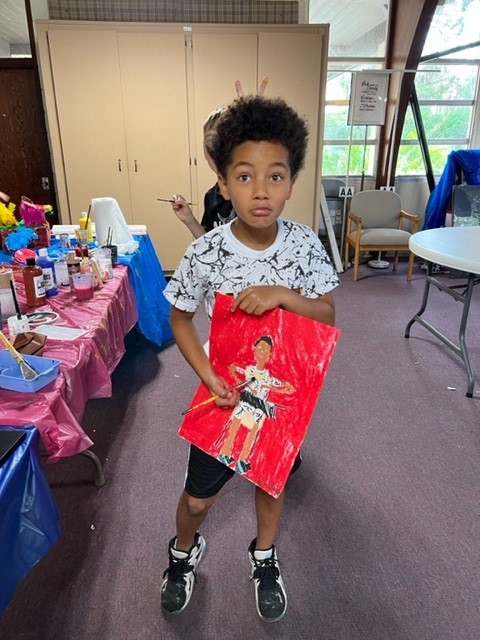 The culmination of the Art Camp was an Art Show on Saturday. It was well attended by the young artists, their parents and grandparents.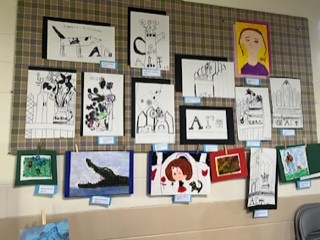 Gayle is a retired Captain in the Air Force who transitioned into education after she retired. Her first degree was in Art Education from Bowling Green University, and she later received a degree in early childhood education. Gayle initially started the camps to help her transition from the hectic school year as a kindergarten teacher into a slower summer pace. As an artist, Gayle prefers painting, print making and origami, but has experience in a variety of other artistic mediums.
Gayle appreciates the families who support the arts in the Melrose area and Faith Church hosting the Art Camp. This is one way that Faith reaches out to the children in the Melrose community. They also host a back-to-school splash party where they distribute school supplies.
Thanks Gayle and Faith Presbyterian Church for nurturing the creative spirits of Melrose's children!
Thanks to Gayle Bone for assistance with the story and photos.