Explosive Fire at Cuban Oil Storage Facility Hit by Lightning
Our mission partners in Cuba have asked for prayers of solidarity as Cuba deals with a massive fire set off by a lightning strike at an oil storage facility in the city of Matanzas. On Friday, August 5, 2022 a lightning bolt hit gasoline deposits on an oil storage tank, which then spread on Saturday to a second tank igniting a devastating fire. A Reuter news report on Monday, August 8, reported that a third crude tank caught fire and collapsed, as an oil spill spread flames from the second tank. Cuba had made progress fighting off the raging flames during the weekend after drawing on help from specialized personnel in Mexico and Venezuela, but late on Sunday the fire began spreading from the second tank, which collapsed.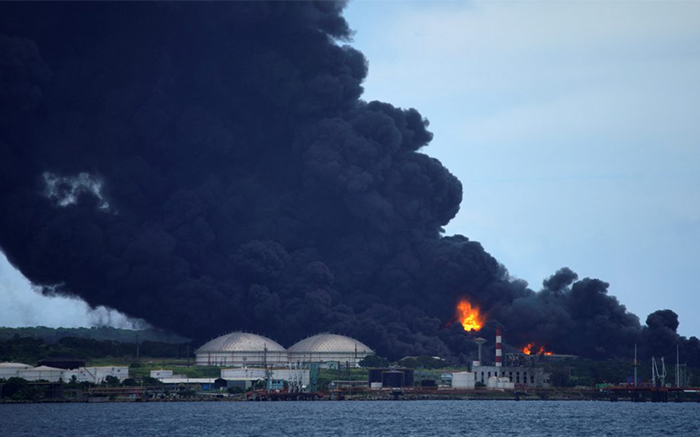 The fires outside of Matanzas City will be devastating to the economy of the country, which has already been stretched beyond measure. Cuba is lacking resources and enough expertise to mitigate this alone.
The Washington Office of the PC(USA) and Presbyterian Disaster Assistance have been in conversation with World Mission Regional Liaisons for the Caribbean to discuss ways to provide assistance following this emergency. The Reformed Presbyterian Church in Cuba and Cuba Partners Network (see Cuba Partners Network emails below) have asked for continuing prayer as they assess the situation and establish the best ways to provide assistance to the affected communities. In the Iglesia Presbiteriana-Reformada en Cuba (IPR-C) Facebook post on Saturday, part of their prayer request was this:
We pray for protection for the men and women on the front lines facing the sinister, we pray for the authorities that must make wise decisions every minute and we pray for all the medical and assistance staff offering their efforts to favor the health of the affected people. We thank God for the concrete and symbolic gestures of solidarity that our country receives from different parts of the world, which is a sign of Love that transcends geographical borders and cultural and political differences.
Please join together to pray for peace, hope and trust that the people will know that God is present with them in the midst of this storm.
---
Watch the presbytery website, email and Facebook page for updates on this unfolding situation.
Updates / Links
August 10 email from Cuba Partners Network – press release calling on the US government to support the Cuban people in the wake of the devastating explosions at the Matanzas fuel facility .
August 11 email from Cuba Partners Network – update regarding how to donate to the PDA for Cuba relief efforts