Called Meeting of the Presbytery
Tuesday, June 23, at Noon
First Presbyterian Church of Starke
Drive-In Meeting in Parking Lot
Edd Norris, Moderator
There will be a called meeting of the presbytery on Tuesday, June 23, at noon, in the parking lot of First Presbyterian Church of Starke (921 E. Call St., Starke, FL 32091). Teaching elders and commissioners will remain in their cars and participate through an audio transmission that will allow all participants to simultaneously hear each other during the meeting.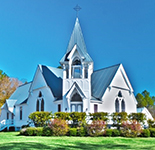 The purpose of the meeting is to vote on two recommendations of the Coordinating Council: (1) to amend our Manual of Operations to allow an electronic (virtual) presbytery meeting under special circumstances where we cannot meet in person; and (2) to amend 6.01 of the Manual (Bookkeeper) to adjust duties and title following the retirement of Nancy Brown at the end of June.
The amendment allowing electronic meetings will facilitate our plan to hold a virtual presbytery meeting with limited business on Tuesday, July 28, at 6:00 p.m. The proposed amendments will be circulated at least 15 days before the meeting as required for consideration of an amendment on one reading and with a two-thirds vote.
We are developing an online registration process. Watch for more details in the near future.