Volunteers Are Sewing Masks
(Originally published on April 14)
It started on Thursday, March 19 with a tweet, text and phone call about the dire need for Personal Protective Equipment for medical personnel caring for COVID-19 patients. A local physician was consulted and affirmed the immediate need for help with PPE for medical workers. Quickly, two members of the Jacksonville group "Sewing Hope for DESC" began researching mask patterns, gathering appropriate fabric/supplies and began sewing masks which fit over the N95 masks to extend their use. The founder of Sewing Hope, Sharon Meehan (member of Riverside Presbyterian Church) and Martha Millard Malone (member of St. Catherine's Catholic Church) call themselves "Mask Mommas!"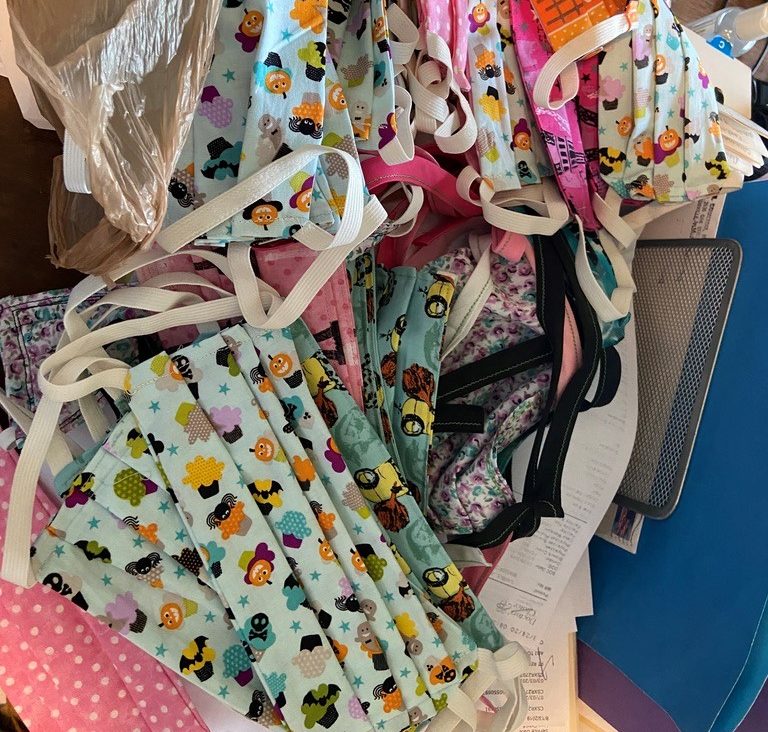 Four days later they delivered over 100 masks in coordination with a practicing physician at Ascension/St. Vincent's Medical Center & St. Catherine's Laboure Rehab/Nursing home facility in Jacksonville. The physician provides guidance about urgent areas of need for the medical community and assists with distribution.
Photos were taken of medical staff with their new masks and were posted on Facebook in appreciation for gifts of the masks. The post prompted others to volunteer. New volunteers were called and sent patterns, suggestions and information about getting started. Volunteers from South Jacksonville Presbyterian, Mandarin Presbyterian Church, Memorial Presbyterian Church in St. Augustine (their group is named "So & Sew"), Lakewood Presbyterian Church, and the newest group at Kirkwood Presbyterian Church in Jacksonville (who named their sewing group "Project Live") are actively sewing as the need increases.
As of this writing, over 700 masks have been sewn and delivered by these groups. Recipients of masks include: Baptist South Hospital COVID-19 unit, Sulzbacher Center for the Homeless, Ascension/St. Vincent's in Riverside, St. Catherine's Laboure' Nursing Facility, University of Florida Health, OB physicians, medical staff in Clay County and an Assisted Living facility for veterans in St. Augustine, Orange Park Medical Center, Kirkwood Presbyterian congregation, a Jacksonville Assisted Living facility, and the Clara White Mission.
Thankfully, a grant from the Peacemaking Fund approved by the Presbytery Coordinating Council provided funds for seamstresses to be reimbursed for some supplies. Seamstresses are resourceful and using 100% cotton sheets, shirts and other fabric found in their homes. DESC, the Downtown Ecumenical Services Council, is assisting with the reimbursement process.
Simultaneously across town, a call from Linda Allen's (Lakewood Presbyterian Church) daughter (3 weeks ago) was the catalyst for Linda to gather seamstresses from her congregation to sew masks for those who need them. The masks were so limited on the medical floors and not all staff working the floors had access to them. Linda's daughter tried to sew her own, but soon reached out to her mom, who reached out to several members at Lakewood PC who could sew.
Three weeks later the Lakewood group has sewn over 300 masks and donated them to medical facilities, nursing homes, the Humane Society, Meals on Wheels, vulnerable congregation members, UCOM, pediatricians and many others.
As with the other sewing groups, they are sharing resources, making deliveries, working cooperatively with the skills they have to protect people who are vulnerable. The Lakewood group has a volunteer who printed labels which go inside each mask which say:
We keep you in our prayers!
Lakewood Presbyterian Church

'…but those who hope in the Lord will renew their strength. They will soar on wings like eagles; they will run and not grow weary, they will walk and not be faint.' (Isaiah 40:31)
This is a spiritual journey with many questions.
How do we respond to crisis with the resources we have?
How do we live into steep learning curves and respond instead of react?
How do we work "together while apart"?
How will we share resources equitably?
What do we need to let go of?
What new wineskins can we pour our imagination into?
How do we deciding who will receive masks?
How do we lead and how do we follow with grace?
We're living into all these questions.
PPE is still extremely limited. We're seeking volunteers to join this project. If you can cut fabric, share sewing materials, sew or make deliveries, please let us know! Face shields are also a need. Contact Kathryn McLean at mcleankathryn1216@gmail.com if you can assist.
Volunteers include:
Sharon Meehan, Martha Millard Milone, Pat Gurley, Jackie Johnson ("Sewing Hope Mask Mommas"
Charlotte Shaw and Elizabeth Wertz ("So and Sew" from Memorial Presbyterian Church)
Liz Leuthold and Leone Faust (South Jacksonville Presbyterian Church)
Sheila Parrish (Mandarin Presbyterian Church)
"Project Live" group (Kirkwood Presbyterian Church)
Linda Allen (group leader), Frances Hallett, Nancy Fishman, C.J. Clark, Ann Sory Meadows, Jenny Tammara (Lakewood Presbyterian Church)
Please let us know if your group or name is not included in this Jacksonville area set of sewing groups. We want everyone working on this project to be included. Some have chosen not to list their names at this time.
This article was published in Holy Week. The beloved community is extending itself in ways we never imagined a few months ago – to loving God and neighbor one stitch, one mask, one step, one act of kindness, one prayer, one delivery, one nurse, doctor, caregiver, one patient at a time.