Edd Norris, Ruling Elder (Silver Springs Shores)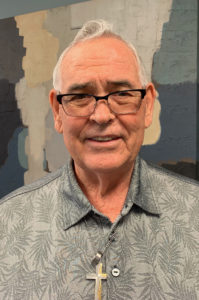 Ruling Elder Edwin (Edd) Norris is a retired 31-year Commissioned Warrant Officer four (CWO4) Boatswain who served his country and the Lord Jesus Christ proudly. He served mostly in The Amphibious US Navy serving on 9 amphibious ships, three amphibious shore stations, one security officer command in Sasebo, Japan and one destroyer. If he had to choose the command he liked and worried the most about, it would be a tie between the USS Trenton and the Security Officer's tour of duty. Edd's assignments took him to 60 different countries some of which don't even exist today.
Edd served in Vietnam, was part of the Granada invasion rescuing civilian medical individuals and students. and the Lebanon support crisis from sea. He earned 32 awards throughout his 31-year career including seven medals for Vietnam service, four US Navy Achievement medals, one Naval Accommodation, and one Naval Meritorious Service Award. Upon retiring from the U.S. Navy, Edd earned a Master's in Human Resources from Troy State University in Alabama and an Educational Specialist degree from the University of Florida. He was the Ocala Center Director for the Saint Leo University for six years and taught college classes from 1994 to 2010 for Webster University, College of Central Florida and Saint Leo University. After that Edd began working as the Facilities Manager for Silver Springs Shores Presbyterian Church and even had the thrill of being allowed to preach a sermon.
Edd is currently married to Anna Mae Norris and together they have six children, 17 grandchildren and she has four great-grandchildren. They have been married four months and no one thought it would last.
As a member of the St. Augustine Presbytery and Silver Springs Shores Presbyterian Church since 1996, Edd has served on every committee or task force asked of him. Now with everyone's help and the grace of God, he will serve as our Moderator. Together we can help this Presbytery move forward. It will truly take us all looking forward to keep moving forward. It was once said if you look back that is where you will go. Remember 1 John 4:7-8 and God's Love is for All!
The Presbytery of St Augustine gives thanks for Edd's gifts and willingness to serve.