Highlands Regional Ministry Center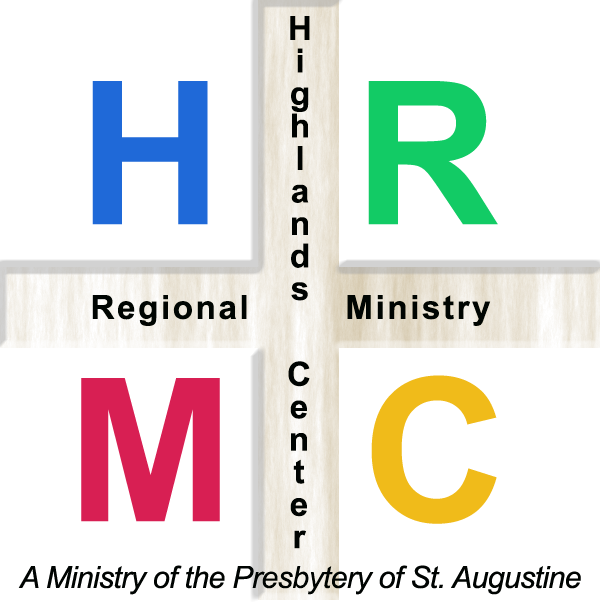 The Highlands Regional Ministry Center has had a strong year offering space for non-profits and partnering with local service organizations for community service projects. The Ministry Center Committee of the Presbytery Trustees has met each month since October 2019.
The HRMC embodies the three foci of the Matthew 25 Initiative. This initiative challenges churches and councils to commit to three areas:
Building congregational vitality
Dismantling structural racism
Eradicating systemic poverty
We invite you to join us in this work. If you are a congregation, we invite you to partner with us financially and physically to continue this work. If you are a local non-profit or community group, we invite you to contact us to rent space for your meetings and events. If you are a service organization, we invite you to partner with us for community service projects and hours.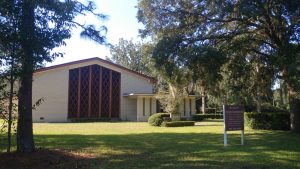 ---
There are five entities using the facilities on an ongoing basis. They include the Gainesville Community Counseling Center, Sanctuary of Enduring Faith, the Alachua County Chapter of Days for Girls, and the Unspoken Treasure Society. The Gainesville Master Chorale will begin using the facilities on a regular basis soon. Here are a few highlights from this past year:
Gainesville Community Counseling Center
The Gainesville Community Counseling Center recently welcomed three new clinical staff members who focus on specific client bases: Spanish speaking clients, LGBTQIA+ clients, and children between the ages of 4-12. They have contracted with Peaceful Paths, the local domestic violence agency, to provide mental health services for their clients as well as EAP services for their staff. In addition to that, they contracted with Rural Women's Health (Project Salud) to provide Spanish-language mental health services to their undocumented clients. They partnered with the UF Mobile Health Clinic to provide free care to the uninsured / underinsured twice a week, and they have partnered with UF Health Aortic Disease Center to offer a support group for people living with particular vascular disorders. Because of the pandemic, all therapy appointments are currently held via telehealth. In the upcoming year, they plan to begin a horticultural therapy garden and develop their group therapy program.
UF Mobile Outreach Clinic continues to partner with the Gainesville Community Counseling Center to provide free medical care to the community. They are present on Tuesdays and Thursdays and see patients from 9am – 4:30 pm, and have extended hours the first Tuesday of the month. In the first two months of the year they saw a total of 149 patients.
Days for Girls
Days for Girls, increases access to menstrual care and education by developing global partnerships, cultivating social enterprises, mobilizing volunteers, and innovating sustainable solutions that shatter stigmas and limitations for women and girls. Together, they are creating a world with dignity, health, and opportunity for all. Our movement has reached more than one million girls — and counting! With your help, we can reach Every Girl. Everywhere. Period.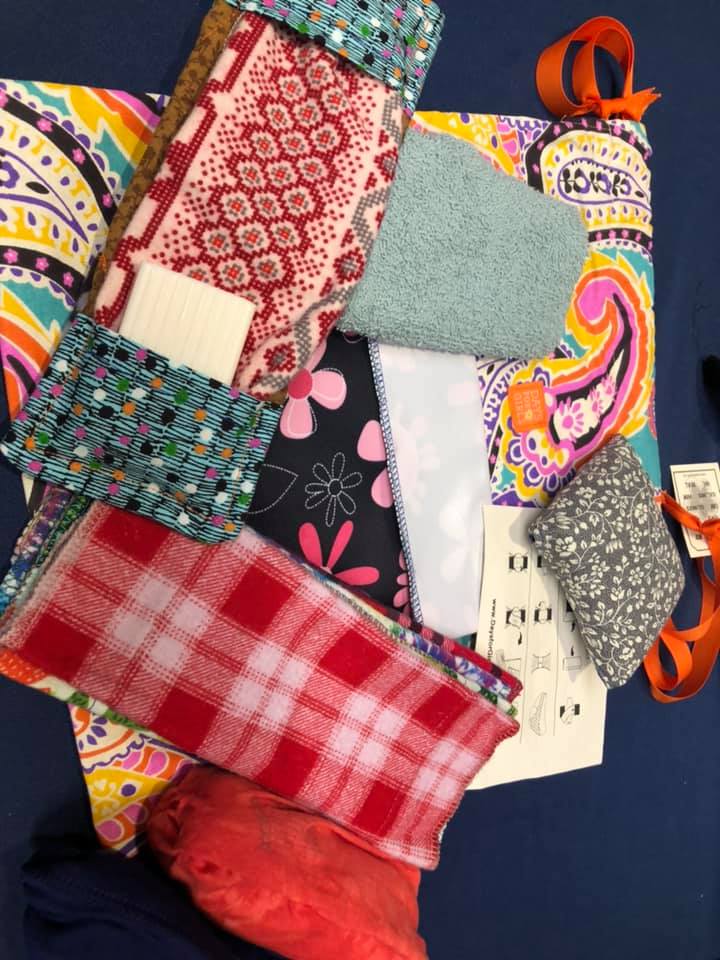 The Days for Girls, Alachua County Chapter had a busy year. When the pandemic started, they produced over 7000 facial masks for the community. Many of the sewers who normally produced hygiene kits quickly transitioned into sewing masks and they were considered an "essential business" with the workroom remaining open, and many sewing masks from home. They collected "Panties for Chad" which resulted in 21,000 kits being sent to the African nation of Chad. In February, they held a "Sewathon" at which their volunteers produced 480 hygiene kits, which surpassed their previous record of 200 kits in a day.
Sanctuary for Enduring Faith Ministries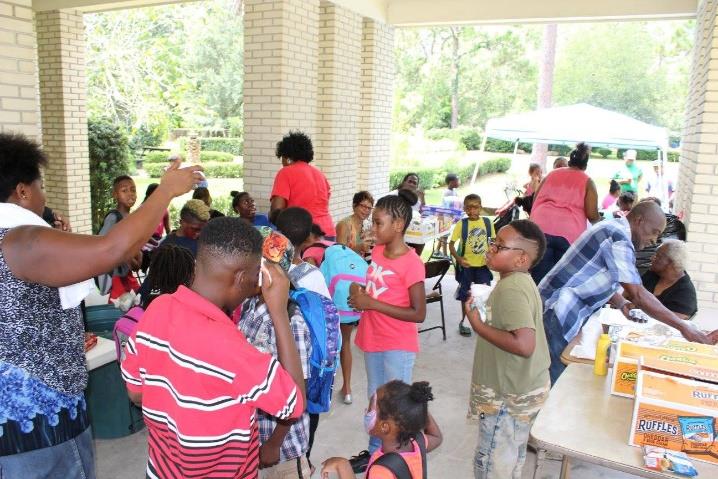 For the past 15 years, the Sanctuary for Enduring Faith congregation has worshiped at Highlands. This vibrant African-American congregation provides a multitude of services to the local community, including food drives, job training, and job placement for individuals recently leaving the prison system. Enduring Faith continues to be a tremendous partner for our ministry center. They continue to worship remotely but hope to begin worshipping in person once the sanctuary renovations are completed.
Unspoken Treasure Society
Founded in 2018, Unspoken Treasure is a non-profit organization dedicated to helping and find solutions to the needs of the trans community. We provide literature, support counseling and access to a complete source of additional resources. The organization has chapters in Gainesville, Jacksonville, and Hollywood, Florida, and in Atlanta, Georgia.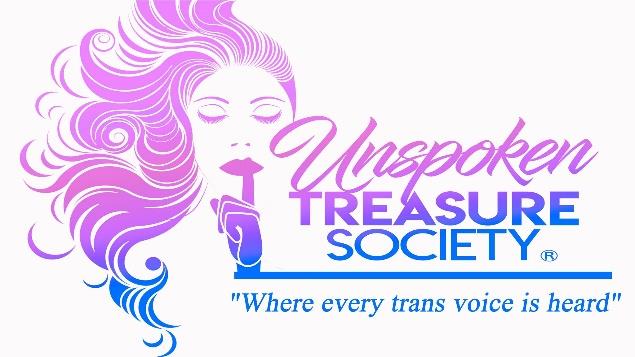 Their vision is to rally and provide resources so that all Americans will have the same opportunities; whether it be job placement, affordable and fair housing, safe sex education, HIV testing and counseling, suicide prevention as well as advocating for victims of domestic abuse. They work to make sure that every trans voice of color is heard and understood equally. They host weekly educational events on Facebook live as well as monthly support groups for youth and adults. They hosted a free HIV testing day in February and most recently celebrated National Women's Month.
---
Other highlights include:
The Mobile Medical Clinic provided nearly 1,224 hours of free medical care to the uninsured/underinsured
We had approximately 11,495 volunteer hours amongst all the organizations
Anticipate being revenue neutral/positive by the end of the year
Partnered with the following local groups:

Human Rights Coalition of Alachua County – assisted in distributing over $60,000 in stimulus funds to undocumented individuals/families
Human Rights Coalition of Alachua County – produced nearly 400 community IDs
Civic Media Center – distributed food to nearly 200 families during the pandemic
Indivisible Gainesville – held candidate forums prior to the pandemic
Hosted a community education forum about structural racism in the school system
Hosted 5 training programs for local mental health clinicians
Collaborated with Rebuilding Together and Habitat for Humanity to provide housing for AmeriCorps workers
---
The Ministry Center Committee is talking with other regional groups that it will recommend to the Trustees as potential ongoing users.
Highlands Regional Ministry Center Committee
of the Trustees of the Presbytery of St. Augustine
Vacant
Vacant
Cliff Lyda (TE)
Jo Anne Dyson (TE)
Steve Crowley (RE)
Vacant
Ex-Officio
Larry Green
Ex-Officio
Alan Cummings
We encourage you to stop by and see the good things that are happening with the Highlands Regional Ministry Center. It is a marvelous example of the property getting a brand new function while still working with God's mission in the world.
1001 NE 16th Avenue
Gainesville, FL 32601