First Presbyterian Church of Fernandina Beach has been an Earth Care Congregation since 2017
First Presbyterian Church of Fernandina became an Earth Care Congregation in 2017. In the last five years, the church has committed to educating their congregation and making it easier to recycle around the church campus. As a way to reduce waste "pre-Covid", the 'kitchen crew' returned to washing dishes after Wednesday evening dinners rather than using paper/Styrofoam plates.
Earth care is woven into the VBS curriculum and their formation classes. A summer education series a few years ago, titled "…And It Was Good," was appreciated by the congregation and the wider community. The coordinator of the series, Jerie Lukefahr, shared that speakers from the community and the congregation offered an opportunity to "… appreciate and cherish our island habitat as we learned about butterfly gardens, bees, sea turtles, Eagan's Creek, and our historic trees." Copies of "Earth Prayers" by Elizabeth Roberts were available for enrichment, as well as activities for families to do at home. The flyer promoting the series as well as two of the handouts (the "Benefits of Urban Trees" and "How Long Until it Decomposes" are linked below as PDFs. (Click on the images below for the PDF files.)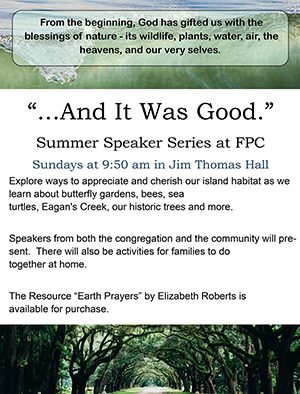 This year's Lenten sermon and formation series was guided by the book, "A Time to Grow" by Kara Eidson. This book encouraged readers to slow down – amid our frenetic, fast-paced world – to focus on the painstaking process of growth. They explored how the intricacy of faith is required to produce food and how that faith can lead us to feast at the table on Easter morning. Both series were well received by the congregation as part of their earth care pledge.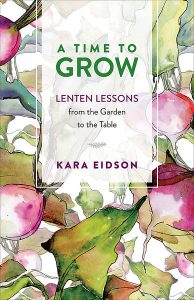 While some of their Earth Care activities have been slowed down by COVID, the church remains committed to education, recycling, and all aspects of their Earth Care Pledge.
Contributors: Jerie Lukefahr and Associate Pastor Julie Higbee