Register as a Commuter Disaster Assistance Volunteer!

Our presbytery's Disaster Assistance Commission (SAPDAC), the Florida Presbyterian Disaster Assistance Network (FLAPDAN), and PDA are working together to develop a statewide list of "commuter volunteers" who can respond to local disasters. After a disaster, a volunteer team will provide their own transportation to the work site, bring all they need for a day's work (food, water, PPE, tools), and return home the same day. After storm damage (such as from a hurricane) the typical work includes muck/gut, debris removal, and temporary repairs to stop additional damage.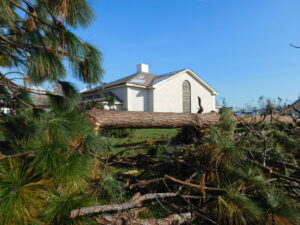 This hurricane season is predicted to be busy, and the COVID-19 pandemic makes commuter volunteers even more critical. If you have any questions you can contact Jim Pellot, Ruling Elder at Hodges Boulevard Presbyterian Church (Jacksonville), via the contact information provided below.
Jim Pellot
pellot1@bellsouth.net
(904) 992-8711
More details are available in the flyer (use the button below) or click on the Commuter Volunteer Registration button to register. Please share this information with your congregations, on social media and with others who you think may be interested.