Dental Mission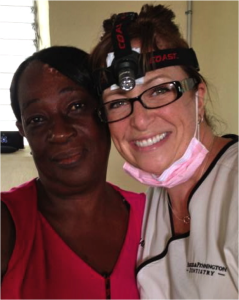 The dental mission takes place every January and June. The team performs   routine check-ups,   fillings, extractions, cleanings, and provides restorative   work  —dentures and partials.
  The need for dental care in Jamaica is as great  if not greater than the need for   medical care.
  Over our 35 years of partnership our teams have provided hundreds of thousands   of dollars   worth of care!
  Our most recent dental trip to Jamaica was quite successful thanks to your   continued support.
  
  A team of 14 saw 72 patients with denture needs, made 120 new dentures, and   repaired 13.   The team was also able to serve clients with 700 tooth extractions   and 170 cleanings. The total   value of services performed was over $230,000. 
Medical Mission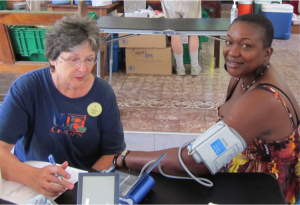 Each June a medical team sets up shop at a local church that has been identified by the JEMM staff. Pastors in the region help spread the word about where and when the medical clinic will be available. People walk from near and far for routine check-ups and simple medical procedures. Serious conditions are evaluated and referred to local medical facilities.
When an optometrist is part of the team, people receive vision testing and eye glasses are distributed.
The JEMM staff keeps detailed medical and dental records for all the procedures that are performed and all the medicine that is distributed as required by the Jamaica Ministry of Health.
Housing Initiative
The housing initiative began about five years ago with a need to repair a home damaged in a hurricane. Since the, First Presbyterian Church in Perry has taken the lead in repairing and building homes.
In 2014 teams went to Jamaica in January and June and built two more homes.
Youth Exchange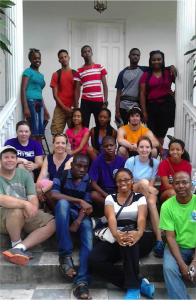 Each year in July youth from Jamaica and Florida (Presbytery of St. Augustine) join   together for two   weeks and spend a week in each country. In each country, team   members participate in service   projects, fun adventures, Bible study, and worship.
  Congregations in both countries support the team members by providing housing,   meals,   entertainment, education, cultural exchanges, and worship.
  We are currently accepting applications to participate in our next exchange. A copy of   this year's   application and information may be accessed using the link below.  If you   have any questions or   would like more information, please feel free to contact   us anytime! We hope to hear from you   soon!  
  Click Here for more information and this year's application.
Adult Exchange
Each year an adult cultural exchange is planned. The venue alternates between Jamaica (November) and Florida (April). We recently sent a group of folks from our presbytery down to Jamaica for several days where they each stayed with a host family, visited with families involved in the housing initiative, served at a local school, and worshipped in local churches with their respective hosts.
Last April we hosted a group of Jamaican school counselors in Florida who wanted training and discussion related to issues they regularly face in Jamaica such as bullying, suicide prevention, and many more topics.
Our next adult exchange trip is listed on the home page. Contact us for more info or you'd like to be a part of our next trip!
Mission Trip Cuba:  February 16-23, 2018
The trip will be led by Diane Watkins and Bob Bell.  They currently serve the Presbytery as co-chairs of our Mutual Mission program.   Diane has been to Cuba with the Central Florida Presbytery twice, leading their mission team to Cuba in December of 2014.
This trip is for you if:  You would like the opportunity to develop a relationship with our Christian brothers and sisters in Cuba and explore the possibility of our Presbytery developing a long term relationship with a church or Presbytery in Cuba.  This is not a tourist experience.  Our time will be spent in churches, and possibly at the seminary in Matanzas.  We will be meeting with pastors and church members in a variety of locations.  Exact itinerary to be determined as it best serves the Cuban church.  Having said that, we will do our best to include some cultural experiences.
The estimated basic cost of the trip is $1,100, which includes roundtrip airfare from Florida to Cuba, Cuban visa and exit tax, and lodging, food, and transportation in Cuba.  It does not include incidentals you might have while you are there, or the cost of a passport (if you do not already have one) or any suggested travel shots.  Housing and meals will generally be in the churches, meaning dormitories and shared facilities. 
The application is attached.  Everyone needs to complete an application.  You can fill in an electronic version and email it to Diane Watkins (info@mutualmission.org), or you can print the application, write in the information, scan it and email it to Diane.
Here are a few important points to keep in mind.
Space is limited to approximately 12 people.  It will not necessarily be on a first come first serve basis as we want to balance participation between geographic areas, and between clergy and laity.  Spanish language skills are highly desirable, although not required.

There will be two important orientation meetings in the three months before we leave.

Our flights will likely be out of Ft. Lauderdale, which may require an overnight in a hotel there. 

Everyone is required to have a Religious Visitor visa from the Cuban government.  The cost of the visa must be paid upfront and needs to be applied for by our Cuban hosts at least 13 weeks in advance of our departure. 
The application deadline is October 2 before noon at our Presbytery meeting.  We would like to be able to announce the names of those on the mission team that afternoon.  
Click here to access the application.
A deposit of $150 (the cost of the visa application) must be paid by October 13.  It will be refundable up until that date.  However, the deposit will be non-refundable once we notify our Cuban hosts on October 16 who will be coming and they start the process of applying for the visas.  All funds will flow through Nancy Brown at the Presbytery office.  How to pay the deposit and the balance of the cost of the trip is included on the application.  Please wait to pay this deposit until after you are notified your application has been approved.
Passport information is needed for the visa application.  If you do not have a passport, you need to start the process now.  If you have a passport, you need to make certain it is valid for at least six months beyond February 23, 2018; otherwise your visa application will be turned down.  In other words, be certain the expiration date of your passport is after September 30, 2018.
The Centers for Disease Control and Prevention provides current health information, including updates on the Zika virus, for travelers to Cuba.  The website is: 
http://wwwnc.cdc.gov/travel/destinations/clinician/none/cuba