Wellness Wednesday Newsletter Archives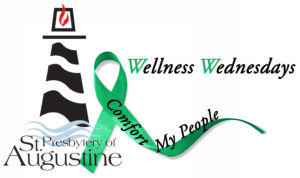 Welcome to the launch of Wellness Wednesday, your Do It Yourself (DIY), resource for your own Mentally Healthy Month.
As part of  the Presbytery of St. Augustine's Comfort My People: Mental Health in Healthy Congregations initiative, we will journey together to increase our Health, Mental Health, and Wellness with our Wellness Wednesday newsletter. Hopefully, these newsletters will be a beginning resource for you as it will include hints, tips, information, and other resources for you to use to have a "DIY" Mentally Healthy Day and by extension…A Mentally Healthy Week and Mentally Healthy Month.
Enjoy your PIES!
Susan Lee, LCSW,
Comfort My People Coach
Email: MyCMPCoach@gmail.com