By Diane Wilson, Moderator Elect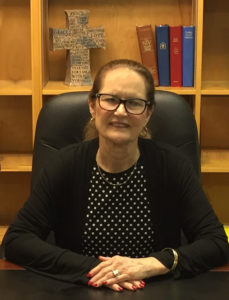 What then shall we say about this new year of 2019?
As one who completed an Interim position in June, attended the Moderators Conference in Louisville November 15-17, moved into a new home with my husband and two cats Thanksgiving week, and began a new pastoral position at First Presbyterian Church of Starke on December 2, 2018, there is no question that 2018 was eventful for me.   It was both exciting and stressful, filled with farewells, firsts, and new beginnings, so it will be interesting to see what 2019 brings.
Still. the most stabilizing factor for me through this time has been God's word, especially as we celebrated the beginning of a new church year through the Season of Advent, a time of "looking forward" with hopeful anticipation.
During Advent, as I thought about the cast of characters who surrounded our Savior's birth, I came to better appreciate them.  They were ordinary people like us going about their ordinary lives when, suddenly out of nowhere, God breaks into their lives and their worlds and changes them.
Imagine Mary, like Joseph and the shepherds, who had no conception of what God was going to do in and through each one of them.  Imagine their confusion and terror when initially they were visited by the angel, even though the angel said, "Do not be afraid."  However, as they were touched by the awe-inspiring presence of God through sights, sounds, and the unmistakable calming peace of God that passes all understanding, they faithfully, willingly, and obediently surrendered themselves to God. 
Oh! And the surrender did not make things easy for Mary and Joseph once they did surrender… as they would learn along the way.  Still, with blind hope and faith they responded not to their own wills, plans, and intended purposes for their lives, but to God's majesty and will.
It was very exciting to be in Louisville with other moderators as fellow workers in the vineyard. As many of you know, there is nothing sweeter than worshiping, breaking bread, and sharing with brothers and sisters in Christ.  It was also very eye-opening, as in and through the conference I heard verbalized and sensed some of the fears of our church leaders about the health of our denomination.  I learned even that my former home, Stockton Presbytery, will be dissolving and its eleven remaining churches will be choosing a new Presbytery in 2019.
I know that in our Presbytery there are fears and trepidation about the future – maybe the new structure of Presbytery, the closing and departure of some of our churches, or the future of Montgomery Presbyterian Conference Center.  Of course, it is healthy to take a realistic assessment of who we are as a Presbytery, but there is no question that, given all that is before us and where we have been in the past, it would be easy to go into this New Year of 2019 fearful and anxious about what lies ahead.
I want to suggest that if we choose to look solely to our own resources, ways, and means, then we have much to fear.   If, on the other hand, like Mary, Joseph, and the shepherds, we allow God to break through our well-defined plans and intended purposes and surrender to what God wants to do in and through us, then we have much to look forward to in 2019.  
We should not ask, "What are we going to do about . . .?," but rather "Where is God leading and moving us?"  In my experience, that is where God will likely surprise us by breaking through and breathing new life into the plans and purposes that God has in store for us.
What then shall we say about this new year in 2019?
We have a lot of work ahead of us and no doubt it will not be easy.   But Praise God for those words of which I am reminded often, especially during Advent.   As the angel proclaimed, "For nothing is impossible with God." (Luke 1:37)   How true those words proved to be for those first cast of characters around our Savior's birth, and I believe they are still true for us today as we begin this New Year!