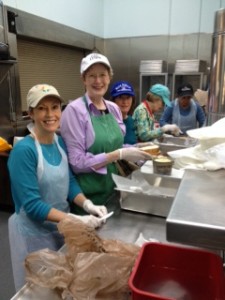 Our new presbyter moderator Cynthia Graham is second from the left in the photo.
Cynthia Graham's first full meeting as moderator will be our Spring Stated Meeting on Tuesday, May 6. Cynthia, who is a ruling elder member at Lakewood Presbyterian Church, is approaching her new role with a mixture of prayer and discernment.
Cynthia worked in business and finance for over 25 years before she retired to pursue her interests in non-profit work. She is a 2004 seminary graduate (New York Theological Seminary) who has pursued her ministry as a ruling elder. She regularly shares her strong gifts with the presbytery community. She has served on the Nominations, Personnel, and Spiritual Growth & Leadership Development committees, the Examinations Commission, the Mission Council of the Presbytery, and as a commissioner to the 2010 National General Assembly of the Presbyterian Church (USA). Teaching and organizing experiential retreats are two of the other areas where Cynthia shines. She also meets with people one-on-one for spiritual companioning and preaches occasionally.
In addition to her church work, Cynthia is on the Board of Directors for Fleet Landing, the retirement community where she lives in Atlantic Beach. She also serves on the board's finance committee. In her spare time, she serves as a class editor for the Bryn Mawr College Alumnae Bulletin, mentors two students at Wolfson High School through the Take Stock in Children program, and audits courses at the University of North Florida. Her Certificate in Spiritual Direction, which she received in 2009 from Sacred Heart University in Connecticut, informs much of her work both in and outside of the church.
When asked why she accepted the nomination to serve as our presbytery's moderator, Cynthia said, "The short answer is that I was asked and after prayerful consideration I felt it would be an exceptional opportunity to serve the presbytery and build on my knowledge and experience. I anticipate my term as moderator will help me grow in my faith and will be a time of spiritual deepening. That's my prayer."