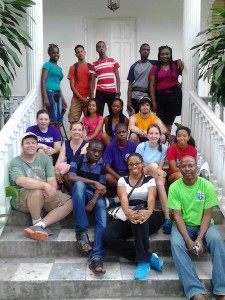 By: Richard Kirk, Mutual Mission Committee Moderator
The 2014 Mutual Mission Youth Exchange has had a successful first week serving in Kingston, Jamaica. Thirteen youth and four leaders have volunteered at several nursing homes, singing hymns and interacting with residents. We have also spent time serving lunch to those in need, working with the developmentally challenged, and painting at an inner city elementary school. We also worshipped in local churches, and spent our day off at Duns River Falls.
Our second week will find us being hosted by Silver Spring Shores Presbyterian Church, and volunteering in the Ocala area. High school students who are interested in participating in the trip in 2015 can contact Richard Kirk at 352-425-8526, or kirkr@cf.edu.