Submitted by Tracy Martin & Del Smith
Is a church that is 40 years old an old church?  Well, if you compare this age with some European churches, such as the recently damaged Notre Dame in Paris, or even churches in nearby St. Augustine, 40 years is only a tick of the clock.  But in a city that has been a city for only 20 years, a 40 year old church is a venerable institution.
This year Trinity Presbyterian Church, located on the corner of Florida Park Drive and Palm Harbor Parkway, is 40 years old.  It all began in 1979 when the Presbytery of Northeast Florida (now the Presbytery of St Augustine) purchased 5 acres of land on this corner and dispatched the Rev. James Tinsley to knock on doors to find Presbyterians or potential Presbyterians among the new residents of the fledgling community.
The first worship service of the new congregation was held in November of 1979 in the YMCA building, which later became the Community Center. This space was shared with another new congregation that became St. Mark's Lutheran Church.  Trinity was officially chartered on Palm Sunday, 1980.
Meanwhile, building was progressing, and the first sanctuary on the corner of Florida Park and Palm Harbor was dedicated on April 5, 1981.  This original sanctuary is now the church's fellowship hall and is called Mehaffey Hall, named for Trinity's second installed Pastor, the Rev. George Mehaffey who came to Palm Coast in 1985 and served for 10 years until his retirement in 1995.
During Dr. Mehaffey's tenure much building was happening, both in congregational growth and in new structures.  The first addition to the church building occurred in 1987 with a wing that included a library, fellowship hall, and office.  The present structure was completed and dedicated in 1995, just before Dr. Mehaffey's retirement, and includes the present sanctuary.
The Rev. Dr. Jeffrey DeYoe was installed as Pastor in 1997 and served until 2007; Rev. Dr. D. Ronald Watson served from 2009 until 2018, and is now Pastor at First Presbyterian Church in Ocala.  The congregation is presently served by Interim Pastor Rev. Dr. Jeffrey Beebe. Dr. Jeffrey Beebe conducts services every Sunday at 10:00 a.m.
Trinity has long been involved in community concerns, from the Family Life Center, the Flagler Resource Center, to the Family Food Program.  Today Trinity also sponsors Scout Pack #281, and a Presbyterian Counseling Center.
Although Palm Coast was vastly different in 1979, Trinity continues to provide a special worship space and fellowship for the community 40 years later.  Some of the founding members from 1979 still worship at Trinity today!
Past ministers and members will return to Trinity for a celebration Service on Sunday, November 10, 2019 at 4:00 pm.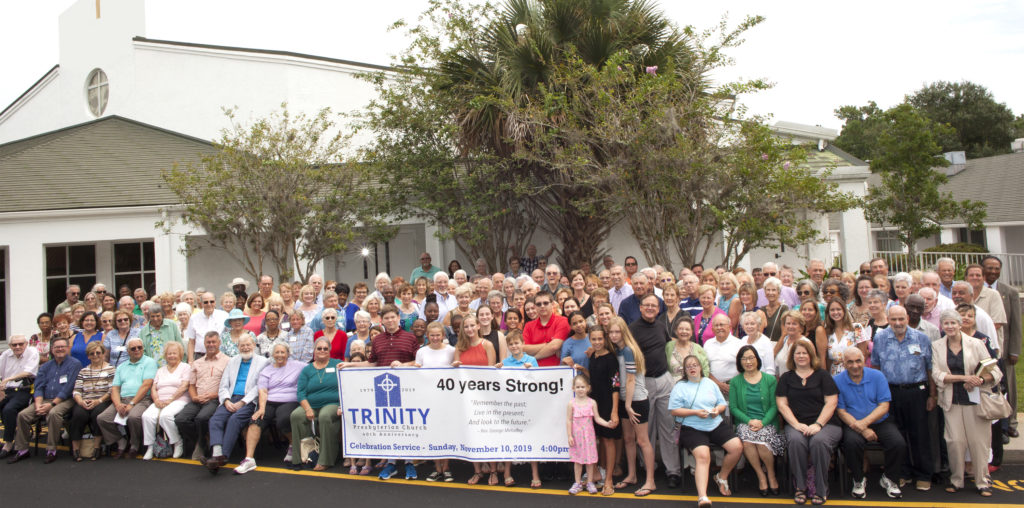 2019 Group photo, courtesy of Jennifer Kaczmarek, photographer