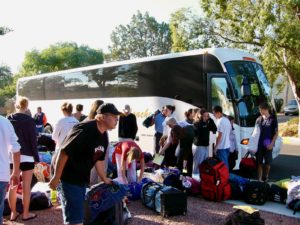 Excitement is building! Twenty-five youth are registered to attend the 2019 Triennium as part of the Presbytery of St. Augustine delegation, leaving by bus on July 15th! Most youth who attend this once-every-three-year event say it is a powerful part of their spiritual growth and one of the best experiences offered by the church. For many people, the Triennium event is a life-changing experience.
In trying to make attendance affordable and include as many youth as possible, we will likely exceed our presbytery's Triennium budget. To offset expenses the Coordinating Council is providing a way for individuals or congregations to make secure, direct donations to support this valuable youth experience.

As part of our Presbytery's focus of 2019 being "a year with youth and young adults" your generous support in nurturing faith is appreciated. If you would prefer to send a check, payable to the Presbytery of St. Augustine, you can mail it to the address below. Please include Triennium in the memo designation.
Stay tuned for more updates as the Triennium draws near!