The presbytery continues to mark transitions and passages in its community life.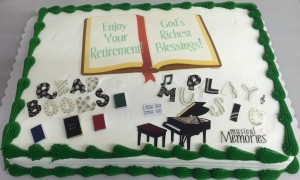 The "third" retirement of the Rev. Dr. Donald Heath from Ft. Caroline Presbyterian Church took place on Sunday, June 7. The congregation and friends met for a luncheon following the morning worship service. There were laughter, jokes and remembrances along with music and some tears. He was also presented with gifts and a wonderful cake (pictured). Dr. Heath will be greatly missed after his ten years of dedicated service to this congregation.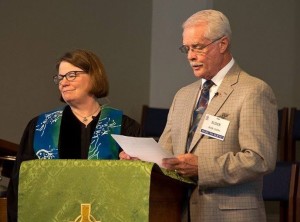 That same day was the Rev. Susan Takis' last Sunday in her three year interim ministry at our Orange Park church. Following the worship service, the congregation gathered for a potluck luncheon honoring Susan, and the time together was full of laughter, tears, an impromptu "roast," singing by the choir, and many tokens and gifts of love and appreciation, including a handmade embroidered stole. This photograph shows Rev. Takis and Ruling Elder Bob Leon during the bittersweet liturgy of dissolution.  
The Rev. John Diller will begin his call as Pastor of the Orange Park church on July 1 and is in the process of moving from Pennsylvania.  The Rev. Joe Medearis is serving as the temporary pastor of the Arlington church, the Rev. Dr. Luis Callazo is currently serving at Iglesia Presbiteriana Nueva Esperanza, and the Rev. Sandy Faison (Yukon Presbytery) is at Highlands in Gainesville. Cheryl Gans (presently serving at Marion Oaks) will be ordained at Fort King on July 12 (click here for an invitation to the ordination).