The presbytery continues to mark transitions and passages in its community life.
Holly Inglis became a member of our Presbytery by transfer from the Denver Presbytery, and she was welcomed into our Palms church as Associate Pastor at the end of August. 
Marcia Graham is a new honorably retired member of the presbytery, transferring in September from Newton Presbytery. 
We also welcome David E. Imhoff (Evangelical Lutheran Church of America) who is serving the Fort Caroline Presbyterian Church.  
We say goodbye to Sheldon Steen who served his first call at our First Jasper church, and, in addition, served our White Springs church. He, his wife Mary, and their three children have moved to Tallahassee where he is serving as a Parish Associate at Faith Presbyterian Church.
John Diller was installed as Pastor of the Orange Park church on August 30th.
There will be a worship service thanking God on the occasion of the retirement of Carol DiGiusto at the Palms church on September 27th, as we look back on her 16 years of service to that congregation.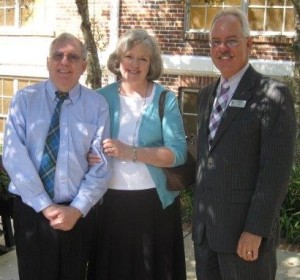 With grateful hearts and prayers for continued and revitalized joy in their ministry, we celebrate the anniversaries of several of our ministers:
Gabe Goodman, Pastor of the Community church, celebrated 40 years of ordained ministry on September 21.
Raymond Guterman, Pastor of our First Ocala church, celebrated 35 years of ordained ministry on September 21.
Jim Weldon, Pastor of the Fleming Island church since its organization 10 years ago, celebrated 25 years of ordained ministry on August 5.
Bob Shettler, Pastor of our First Gainesville church, Steve Goyer, Pastor of our Riverside church, and Joe Albright, Interim Pastor of our Geneva church, each recently celebrated 10 years of membership in our presbytery.