By: Karen Kirkman and Kaley Behl, Co-moderators, Church History & Cemetery Management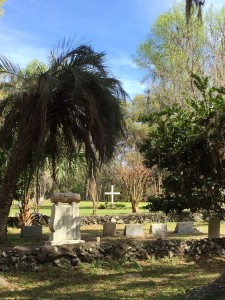 The congregation of Kanapaha Presbyterian Church (KPC) in Gainesville worships today in the historic 1886 sanctuary, much of which is original. But what many may not know is that the congregation is the caretaker of a 4+ acre cemetery, located on the site of the original church built in 1859, further east.
Not long after the original Kanapaha Presbyterian Church was built by a group of cotton planters from South Carolina, a churchyard, or cemetery, sprung up around it. Some of the founding members of KPC are buried there as well as other prominent citizens of early Gainesville. In 2013 the responsibility for Church History & Cemetery Management (CH&CM) was assigned to two elders, both of whom are local historians and very familiar with the history of the area. Several members of the congregation also serve on the CH&CM Committee. Aside from the historical and preservation aspects, Kanapaha Cemetery is also an active cemetery, requiring planning and plotting for future burials. Since 2013 many projects have been accomplished, among them:
Ground Penetrating Radar (GPR) on 6 large areas for future burials – 33 unmarked graves discovered
Comprehensive survey map – raised funds for mapping survey
Plotted new graves (three interments of cremains, one vault/casket burial have taken place since)
First Unknown grave marker set and dedicated, Nov. 1, 2014
Raised funds for the purchase of markers for Unknowns – all acquired
Future projects include completion of plotting the cemetery, setting survey markers, having Work Days to locate and set Unknown markers; more fundraising for more Ground Penetrating Radar and preservation.
The All Saints Day Cemetery Tour, a fundraiser specifically for the cemetery, is coming up on Saturday, October 31st, 12 pm – 3 pm. Admission is $5. Actors in costume will give first person interpretation of the prominent citizens and everyday folks buried in the historic cemetery. Some of the "actors" will be descendants of the people they are portraying. Exhibits (photos, obituaries, iconography, preservation), music, refreshments and the dedication of more Unknown markers will take place. A brief All Saints Day service will include the reading of names of loved ones who passed submitted by visitors and the ringing of the bell after each name is read. A fun way to learn about history and cemeteries!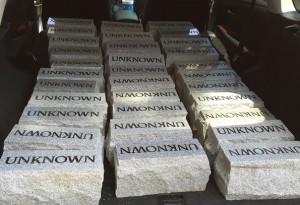 Though Kanapaha Presbyterian Church continues to grow and reach out into the community, the rich history of our church is something we continue to appreciate, learn from and share. The historic grounds of our beautiful little cemetery protect the earthly remains of almost 200 souls. Amidst the heritage oaks draped in Spanish moss, carved stones, wrought iron fences, and stone walls, a large white cross stands to remind all who see it, this is not the end; the victory has been won through Christ!
The historic Kanapaha Presbyterian Church Cemetery is located at 4101 SW 63rd Blvd., Gainesville, Florida. For any questions, please email kanapahachurch@bellsouth.net or call 352-378-9080. For more information and updates, visit our Facebook page at www.facebook.com.kanapahacemetery or the KPC Website www.kanapaha.net or Facebook: www.facebook.com/KanapahaPresbyterianChurch.