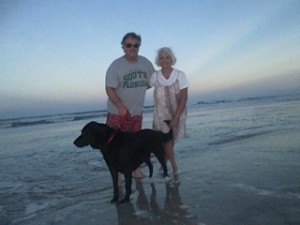 "I Have No Limitations Now As To Where I Can Offer Pastoral Care"
I was asked to write a short message about retirement. Well, in the year and one month that I have been retired, this is the first letter I have written. This pretty much sums it up! Just kidding.
In preparing for retirement, it is first best to give you some important ideas that I somehow did correctly and that Dee and I think are important. When you see your retirement on the horizon, you will want to decide that a few things need to be done before that date. First, set a date so that you can make some short and long term goals. Attend at least one Presbyterian Retirement Seminar; investigate your Social Security and Presbyterian Pension benefits. Be sure you make a personal visit to a Social Security Office before you sign any papers.
I served three churches – and with two of them, we lived in manses. My third church allowed me/us the chance to purchase our own home with the use of my GI Bill. At that time of signing it was our goal to pay off the home by my retirement date as well as put our two children through college. By retirement time we paid off the house in thirteen years, and both kids went through school.
So when I retired the house was paid off, kids through college, Dee's car and my new Harley paid in full, and while Dee still works full time as a psych R.N., I went into retirement completely debt free. What is not to like about that? My minister Rev. Dr. James Blackwood said that he had always lived a simple life, and listening to his good advice, so have we.
My dad is 92, and he told me that retirement is like losing a great weight off of your shoulders. I have found this to be so. (And I found that in retirement, we can visit my parents much more often.)
I loved being a Presbyterian Minister until the end, but it is nice not to have all of the responsibilities that go with that office. For over 25 years I slept with a telephone a foot from my head; now I turn it off at 9 pm or so.
I no longer vacation – I am retired. Last year Dee and I rode to The Grand Canyon and explored curving back roads to ancient Native American cliff dwelling and other amazing sights. Later in the fall, I rode up to New England to see our friend Rev. Ginny McDaniel and then up to New Hampshire, where I stayed with friend from the D. Min. program for a few days. Lobster was something like $3.15 a pound. The ride back was through colorful fall foliage, northern New York, then south through the Eastern mountain systems meeting nice people all the way.
Ministry for me now is meeting people on a one to one basis. Instead of ministering to a flock, I have no limitations now as to where I can offer pastoral care. Some retirees continue to pastor a church, but at this time that is not for me, I just want to help people. There is plenty of need with the unchurched everywhere we go.
So retirement for me is about freedom, pastoral care to the unchurched, and almost no stress. Prayers no longer get interrupted by meetings and phone calls. I do miss the research in sermon preparation; I still used the old Greek up into the end – my Lexicon was well worn. I always thought that the best sermons offered some key words that were not available to most people in the congregation. I gave my library to a student. I kept the Greek books!
For me retirement is about three times better than what I had heard; I do not get bored. I enjoy the increased time for reading or just thinking, fixing neglected things around the house, and while Dee works I make sure that when she comes home everything is shipshape and there are often flowers on the kitchen table. Oh yea, my dog Bill likes me hanging around with him.
Amigo de Jesus,
Rick Palmer