By: Larry Hadrava, Commissioned Ruling Elder
Once upon a time back in 1882 in a little town called San Mateo, Florida, a church was born.  Since that time, generation after generation of people from the area have faithfully served this church.  Many of the congregation that are active members were baptized, and married in this church.  They have seen their children baptized and married.  They have seen grandchildren and great-grandchildren grow up in this church.
San Mateo is truly a family church.  Not just because there are many families represented, it is because they treat everyone like family. This congregation is a great example of what the love of Christ looks like.
I wanted to take time to share a couple of activities that the members of San Mateo Presbyterian Church have been up to.  When soldiers of the National Guard from the community deployed, several members wanted to do something for them.  These folks decided to send the troops items that they would need while in the field. The congregation came together with enough goods for more than 14 packages.
The soldiers have received their boxes from SMPC!!
In a letter from one of the men, SFC Joey Crews said, "They were perfect.  The Soldiers have been blessed to have such great support from Putnam County.  Groups like yours are what make Putnam great.  Please let the members of the church know that we are thankful for their generosity.
We have been in country over five months now and it is starting to get cold with snow on the mountains.  We have been pretty safe but the inherent danger that comes with being here still exists.  Please continue to keep us in your thoughts and prayers.  We thank you all for your time and resources."
We are continuing this ministry for the time that our brave soldiers are deployed.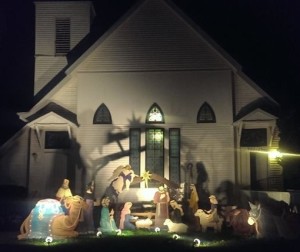 Of course we can't forget the beautiful Nativity scene in front of the church.
I wanted to share with the other churches in the Presbytery what SMPC is up to.  What's next?  We will see where the Spirit leads us.
If you are in the Palatka, San Mateo, or Satsuma area and are looking for a church home that feels like home, drop by.  Sunday school is at 9:15 a.m. and worship is at 10:30 a.m.
Check us out on the web: San Mateo Presbyterian Church and Facebook.
Grace and Peace,
Pastor Larry