By Karen Kirkman, Co-Elder for Church History & Cemetery Management, Kanapaha Presbyterian Church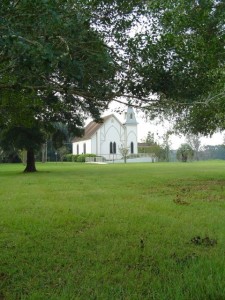 The first-ever All Saints' Day Cemetery Tour was held at the Historic Kanapaha Presbyterian Church Cemetery in Gainesville on November 1st. Visitors had the opportunity to meet thirteen "saints," some of Alachua County's pioneers and prominent citizens who had been laid to rest in the historic cemetery, founded in the late 1850s. Six of them were portrayed by descendants. The self-guided tour featured first person interpretations in period costume at graveside; among them were local attorney Evans Haile portrayed by his grandson Evans Haile, conductor of the Gainesville Orchestra; Florida Supreme Court Justice R.F. Taylor played by local radio host Hank Conner; Judge Z.T. Taylor and his wife Mary portrayed by descendants Kaley Behl, a KPC elder, and her uncle Butch Taylor, and Rev. Wm. J. McCormick, first pastor of KPC, played by his great grandson Don McCormick. Descendants of the Ramsey family, whose ancestors had gifted land for the original church and cemetery in 1859 and 1903, were thrilled with Kate Conti's portrayal of Aunt Sallie Ramsey, right down to her Southern Georgia accent!
There was a Confederate camp of re-enactors and delicious goodies and drinks for all to enjoy.  At noon Rev. Dawn M. Conti led the dedication service for the first "Unknown" grave marker, one of 33 which will eventually be placed on unmarked graves thanks to last year's ground penetrating radar work. Replacement markers for Floyd Dozier and the Taylor family were also dedicated. The location of Mr. Dozier's grave was determined by the combination of research, triangulation, mapping survey data and ground penetrating radar work. KPC singers harmonized verses of "For All The Saints" for the service, which was capped off by the "Naming of the Saints."  Rev. Conti read the names of KPC members who had died during the past year and invited the visitors to offer other names. After each name, a bell was rung.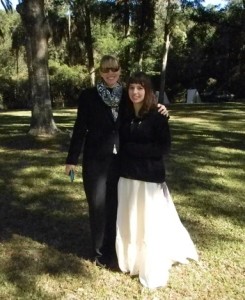 More than one third of the KPC congregation participated in the planning and execution of the tour! All proceeds were designated to benefit the preservation and maintenance of the cemetery.  Click here to check out the KPC Cemetery Facebook page for pictures.
The Gainesville Sun and GTN TV News gave the event extensive coverage (click date for coverage)