By: Rev. Emily Proctor, Riverside Presbyterian Church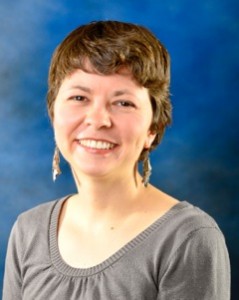 This year, I used some of my continuing education money, wiped out my accumulated Skymiles, and braved 20° Minnesota weather to attend my third NEXT  Church conference. And I'm glad I did—this may have been my favorite one so far. NEXT Church is a growing network of Presbyterian leaders who are hopeful about the future of the Church. Not because of anything the Church is doing or not doing, of course, but because of their trust in God's love, in Jesus Christ as head of the Church, and in the ongoing bold and generative work of the Holy Spirit. As one preacher said, sometimes what feels like dying, turns out to be giving birth. And even if dying is in fact what parts of the church are experiencing, our God is one that calls us to meet death head on, trusting in the resurrecting power of God in Christ.
The annual NEXT Church conferences offer Presbyterian leaders a chance to connect and share the exciting things that God is doing all over the country in Presbyterian churches large and small, and even outside the church. It is exhilarating and soul-enlarging to be part of a gathering that trusts God enough to model risk-taking both in conference worship and in their ministries back home.
One small church pastor shared how her congregation discerned a deep need for Sabbath, so they started taking it together. They let go of the idea that weekly worship always had to be on a Sunday morning, and experimented with a Saturday evening prayer service to kick off a Sabbath day of rest and play, which culminated in a Sunday evening potluck and sharing. Although the pastor admitted that their first attempt at the evening prayer service left something to be desired, the actual Sabbath day was transformative for pastor and congregation alike.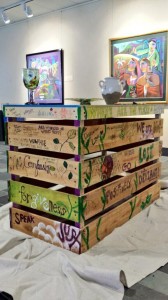 In worship, we experienced Christian preaching and music from many different cultural traditions: African American, Native American, Taize, and we got to sing out of the new Glory to God Presbyterian Hymnal—a treat for those of us whose churches have not yet made the switch. We witnessed a communion table being constructed right before our very eyes, and then we were invited to add our own prayers and reflections to it with marker and paint. In one service, we were asked to sit in the balcony, while the worship team led from below, a blue river of cloth flowing from the Communion Table out over the pews. Later we lit candles along that river as our prayers were read aloud. The most meaningful worship experience for me, and the one I want to take back to my own congregation was the presentation of scripture through biblical storytelling. The way the Word came to life in the inflection and gestures of Casey Fitzgerald, the scripture reading WAS the sermon.
I went to one workshop about how a "90-second-sermon" video could be a new tool for sharing the good news in a world that is increasingly online searching for meaning. It made me wonder how the ministries of my own congregation (Christmas International House or our partnership with Fonkoze in Haiti for example) might benefit from 90 second videos on our website that could be easily shared 
Last year at the NEXT Church Conference in Charlotte, I met several church leaders, who quickly became friends, from South Jacksonville and Palms Presbyterian Church. Together, we began dreaming of hosting a regional NEXT Church gathering in the Jacksonville area. On Saturday, May 3, from 10 a.m. to 4 p.m. we will be gathering at South Jacksonville Presbyterian Church to share with others a taste of what we've experienced at the national conferences and invite others in the Presbytery to help us plan a regional conference in the fall of 2014, whose theme will be "Building Bridges: Toward a More Relational, Reconciling, and Relevant Church." To learn more about the event or register, please visit our Facebook page (http://www.facebook.com/events/551509894946596) or contact Matt Hartley at hartley.matt@gmail.com.