Reflections of Moderator by Mary T. Mickel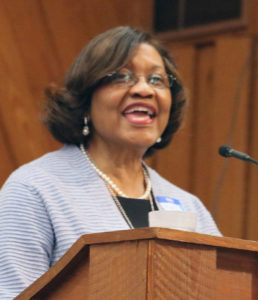 This year of serving as our presbytery moderator has been one of growing, learning, healing, celebrating, and thanksgiving!  God has a way of making scriptures come alive in our lives.  One of my favorite scriptures is Psalm 27:1, "The Lord is my light and my salvation; whom shall I fear?  The Lord is the strength of my life; of whom shall I be afraid?"  As the office of moderator unfolded, with all the responsibilities of the presbytery, this scripture, your prayers, love, and support of family have been an inspiration for me to walk with victory every step of the way. My faith allowed me to know with confidence that whatever presents itself, the "light" of Jesus Christ was leading the way.
No one can write a complete script on what to expect as moderator.  Even though there have been some wonderful leaders and examples to follow, this is a path that will lead to growth in faith.  My journey began more than two years ago, with mid-council training provided by the Office of General Assembly in St. Louis, Missouri, and funded by our presbytery through Unified Giving.   There was an opportunity to worship, pray, and listen to leaders from all presbyteries around the country.  The focus of the training is always the same – to provide tools and resources on how to make disciples for Christ and how to minister and be the church to all God's people. I learned that the work of the presbytery is not carried out by a single committee, commission, staff member, or volunteer.  The work is carried out by an entire team of staff members (I might add, wonderful staff members in the Presbytery of St. Augustine), volunteers, various committees, commissions, sessions, officers, leaders, task forces, and the list goes on and on. 
Countless hours, time, and energy are spent to prepare for presbytery meetings. There are missions and ministries that are taking place, such as the Mutual Mission Team's trip to Cuba and The Presbyterian Women's collection of "undies" to send with the Team. The "behind the scenes" work must take place long before the first plane ticket is purchased.  We have four Area Relationship Coordinators who work to provide pastoral care and support to churches in the four geographic areas of our presbytery.  These spiritual giants help to connect all of us as one Body in Christ and as a presbytery.  If you would like to contact your ARC, and understand more about their support, please connect via this link. 
I have witnessed firsthand how the presbytery provides support to our churches, based on need.  As a member of Woodlawn Presbyterian Church, I realize we have been blessed to have the support of the presbytery to walk with us as we prayed for the "call" of a new minister.  There was never a time when we needed a moderator for congregational or session meetings that we did not have representation from the presbytery to be there for us.
As moderator, I visited many churches throughout the presbytery. I had the opportunity to participate in installations/ordinations, celebrate the lives of members who have gone to Glory, preach the Word, and participate in the Lord's Supper.  One very special service, A Service of Dedication, was held at Normandy Blvd. in December 2018.  That service will always hold a special place in my heart.  There at the site where a church building had been closed and would soon be taken down, we heard about how families dedicated their lives to Christ, married, baptized their children, and held the grandest Christmas and Easter programs.  We prayed, cried, celebrated, and reminded each other that God is still with us, even though the building would no longer be there.  My life has been richly blessed and enriched.  As we begin this new year, with a new moderator, let us walk confidently, knowing that we "walk through" with Christ.  (Psalm 23:4)
I am forever grateful to God for the opportunity to serve.  Thank you for your prayers and encouragement, which will always be a source of inspiration, and thank you for continuing to pray for me as I begin to serve as Chair of the Coordinating Council.  It takes all of us working together to make our presbytery one that makes up the Body of Christ.
Grace, love and peace to you all!
Mary T. Mickel, Ruling Elder
Woodlawn Presbyterian Church U.S.A.,
Chair, Coordinating Council, Presbytery of St. Augustine