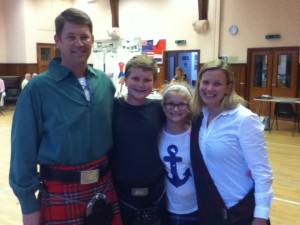 By Wain Wesberry, Pastor of First Presbyterian Church of Fernandina Beach 
Thanks to the providence of God and the generosity of First Presbyterian church of Fernandina Beach, my family and I got the opportunity to do a pulpit exchange with the congregation of St. Matthews (Church of Scotland) and the Burton family in Perth, Scotland over the summer.
The journey began more than a year ago when I was encouraged to get to know Scott Burton who did an exchange in Fernandina Beach a few years ago.
Scott and I got acquainted online via Facebook and Skype and began dreaming about possibilities. The session of St. Matthews in Scotland loved the idea as did the session of FPC Fernandina Beach for the summer of 2014.
As we dreamed about making the most of the exchange, I am so proud to report that Fernandina's session drafted and approved a covenant with St. Matthews that their session adopted with enthusiasm. We covenanted to be intentional about praying for one another, sharing resources, engaging in missional activities when possible, and encouraging our members to spend time with their members both in Florida and in Scotland. For the exchange, the Wesberrys and the Burtons (now affectionately known as the "Burberrys") agreed to live in each other's homes, drive each other's cars, and preach in each other's pulpits.
Because traveling internationally has been so instrumental in our Christian formation, Sarah and I wanted to expose our two children Will (13) and Aubrey (11) to some contexts and people beyond Scotland. To make this dream a reality, we vacationed our way over to Scotland for about ten days, making stops in Boston, Massachusetts where we enjoyed a Red Sox Game and the many historic sites of Paul Revere's "Freedom Trail."; Reykjavik, Iceland where we saw glaciers and geysers; and London, England where we thoroughly enjoyed everything from worship at Westminster Abbey to the history of the Churchill War Rooms, from touring the Tower of London to enjoying food at Ye Olde Cheshire Cheese (the old pub where Charles Dickens would frequent).
We took a train from London to Cambridge and celebrated our daughter's birthday there. We arrived in Edinburgh by train on June 27th and finally got to meet the Burtons face-to-face. It was bitter sweet to see the Burtons because just two days before our arrival, they experienced a family tragedy in the death of a dear friend, Dave McKay. We learned that grief knows no bounds of culture and country. Through laughter and tears, God galvanized us as friends and allowed us to minister to each other in a multitude of ways.
Before the Burtons headed for Fernandina, we toured Perth together, shared haggis, neeps (turnips), and tatties (potatoes), and kicked off the exchange officially by leading worship together wearing our kilts. It is difficult to find the right words to express how warm, welcoming, and loving the people of St. Matthews were to us. They embodied Christian grace and hospitality, and we learned so much from them.
Once the Burtons made their way to Fernandina, we settled in at the manse. It felt great no longer to live out of suitcases and hotel rooms. We dove right in to Scottish life, driving on the left side of the roads, shopping at Tesco as well as local markets, making friends, and caring for the members of my new Summer flock. Ministry in Scotland is very similar to ministry in the states in that I had to prepare the weekly sermon and worship liturgy, coordinate the hymns, and provide pastoral care to those in need. The key difference is that ministers in Scotland are responsible for the people in their flock (kirk) and the people of their parish (a section of the community in which they live and serve). All Scottish citizens, even if they are not active members of the local church, have the right to call upon the C.O.S. minister responsible for their parish in moments of need ~ such as illness or death. To put this reality in perspective, I usually conduct about a dozen funerals per year in Florida, but in Scotland Scott averages closer to fifty per year! Over the five weeks we were in Scotland, I was involved in four funerals.
The reality of death was hardly the defining feature of the exchange. We found the Scottish people to be so filled with life and vitality. The landscapes were absolutely breathtaking, and we never knew there could be so many shades to the color of green! In July, we enjoyed long days with loads of sunshine. The sun rises around 3:30 AM and sets well after 10:00 PM at night. The air was so refreshing due to the low humidity, and the daily temperatures were around 75. The people apologized for what they felt like was oppressive summer heat, and they laughed when we told them in Florida we call the July weather they are having Winter!
Our family took great delight in getting outside and taking long walks together. We toured some amazing places: from nearby Scone Palace (the site where Scottish kings were crowned) to the sprawling fields of Bannockburn (the site where Robert the Bruce led 10,000 Scottish troops 700 years ago to defeat 20,000 English troops), from the historic and gorgeous sanctuaries of St. Giles in Edinburgh to the birthplace of the Scottish Reformation at St. John's (a couple of blocks behind St. Matthews). We got to enjoy the holy ground of golf at St. Andrews and at Gleneagles, and we ventured by train to Glasgow to enjoy rugby at the Commonwealth Games. The summer was chock full of adventures, and our family felt like the exchange provided us memories to last a life-time.
We wrapped up the exchange by coming back to Fernandina Beach in late July and spending a few days on retreat with the Burtons so that we could debrief the summer. God continued to galvanize our friendship through our conversations and the times we spent enjoying food together. Scott and I led worship together at Fernandina Beach on August 3rd, and it was such an emotional experience for the two of us. We both felt so very thankful for the opportunity, for the friendship that we both know will be life-long, and for the grace expressed to us through two amazing congregations, one on a Florida island and the other in the heart of Scotland. I brought back a Quaich, a small, pewter shallow bowl with lovely carved little handles that is known as "the cup of friendship." I know that I will not soon forget how close the Holy Spirit felt as Scott and I stood before the congregation in Fernandina, each of us holding one of the handles of the cup of friendship, giving thanks to God for such a wonderful experience and looking forward to more adventure in the future together.
With so much division in our church today, I am so grateful for the witness to unity and friendship that God's people at St. Matthews and First Fernandina are courageously making by crafting a covenant and by reaching out to one another in love and prayer. In the church we often claim that God's steadfast love endures forever, and I give thanks to God that through the experiences of the pulpit exchange, my family and I got to experience that steadfast love. Long live the Burberrys!
 A traditional Scottish toast given to us by some friends in Perth seems like a fitting way to draw this reflection to a close: "May the best you have ever seen be the worst you will ever see. May a mouse never leave your girnal (pantry) with a tear drop in his eye. May you always keep hale and hearty till you are old enough to die. May you always be as happy as we wish you always to be."
Grace and peace,
Wain Wesberry