Presbyterian Disaster Assistance Response to Hurricane Irma and Hurricane Harvey
You shall be . . . the restorer of streets to live in. —Isaiah 58:12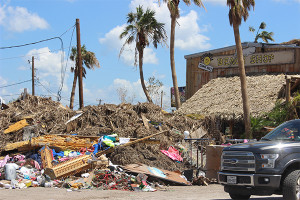 Hurricane Irma, a record-setting storm, is now dissipating, but the devastation is just starting to be known.
Members of PDA's National Response Team will arrive in Florida, Georgia and South Carolina this week to provide aid, assess damage, and offer spiritual and emotional care for those impacted by the winds and flooding. While PDA has already been in contact with presbyteries throughout Florida and Puerto Rico, the Church remains mindful of the areas where contact has, so far, been difficult to make. Once the information arrives from the Florida Keys as well as the Caribbean islands nearly wiped from the map, the destruction of this storm will begin to be fully known.
There are years of recovery ahead. Will you help extend the hands of Christ by standing in the GAP? — Give. Act. Pray.
GIVE:
PDA's emergency response and specialization in long-term recovery is fueled by your generous gifts. Designate gifts to: Atlantic Regional Hurricanes DR000194. You can also give with a credit card by visiting presbyterianmission.org/GIVE-Irma or by calling 800-872-3283.
PDA is still in need of support for mucking out and rebuilding efforts in the Gulf region after Harvey. Thank you to those of you who have already directed gifts to (DR000169-Harvey).
ACT:
Download the bulletin insert here.
Put together Gift of the Heart kits for survivors in the affected areas — hygiene kits and cleanup buckets are especially needed. For more information, go to pda.pcusa.org/page/kits/.
Contact the PDA Call Center to be notified of volunteer opportunities. Call 866-732-6121 or email pda.callcenter@pcusa.org.
Learn how your congregation can help families that have lost everything. Stay informed and like us on Facebook or visit pda.pcusa.org. Be sure to share updates with your congregation.
PRAY:
God of help and hope, in the challenging days, months and years to come, work through us to bring relief and respite from urgent need,comfort and the hope of peace for those who grieve the loss of family, home and safety, and faith to walk on through weary days of rebuilding. May we be steadfast in love, stronger than death,and thus, with those whose lives we seek to sustain, together bear witness to your redeeming love.
Amen.
(For a more in-depth prayer, click here.)
For more information, visit presbyterianmission.org/pda