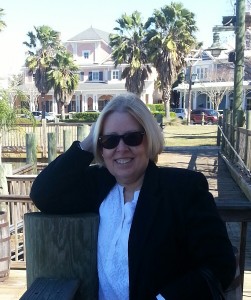 Note: at the suggestion of some of our newsletter readers, we are continuing to share the profiles of some of the men and women on our preaching supply list. Please contact us if you would like to participate.
Did you ever think that something as menial as washing dishes could change your life forever? My name is Joan Wells and it did for me. It began when Paul Hooker came into our Presbytery as our Executive Presbyter. He was scheduled to speak at our Wednesday night dinner at Kirkwood Presbyterian Church where I served as an Elder for 11 years.
The night Paul came to dinner, the place was buzzing and everyone wanted to hear what he had to say. I was at home with my husband Ray and my daughter, Katie after a long day of work as an orthodontic assistant. That's when I got a call from the church. Someone needed a favor. They asked me to come wash the dishes from the evening meal so they could listen Paul speak. So I went and as it turned out, it was one of the best decisions of my life.
While doing the dishes, I could hear Paul talking about his desire to start the LIPSA Program which would train Elders as Laypastors or as they are now called, Certified Ruling Elders. Paul Hooker then got my undivided attention. You see, several years before I had been headed for Seminary, but life got in the way. I always knew that if God wanted to use me in ministry, a door or window would blow open so I could do the work I felt called to do. That night I told Paul I wanted to be in the first group for his new program. So you see, it doesn't matter what you are doing. When God calls you, God uses even menial tasks to guide you in the right path. You just have to have a little faith!