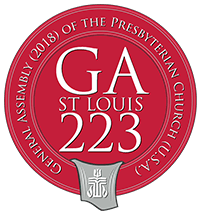 June 16 – 23, 2018
About General Assembly
General Assembly, which takes places every two years, reviews the work of synods, resolves controversies in the church, is responsible for matters of common concern for the whole church, and serves as a symbol of unity for the church.
The General Assembly has several specific responsibilities outlined in Chapter 3 of the Book of Order. The assembly seeks to protect our church from errors in faith and practice, is responsible for assuring that the expression of our theology remains true to the biblical standards in our historic confessions. The General Assembly presents a witness for truth and justice in our community and in the world community. It sets priorities for the church and establishes relationships with other churches or ecumenical bodies.

Stay Informed Throughout #GA223
There are several ways you can stay informed on what is happening throughout the duration of the General Assembly! 
Live Streaming

– All general proceedings and worship during the assembly will be

live-streamed

on the GA official site – https://ga-pcusa.org/


GA Newspaper

– Sign-up to receive the daily digital version of the GA Newspaper from PC(USA) – https://bit.ly/2qL8240

Presbyterian Outlook –  The independent, biweekly news magazine provides thoughtful, in-depth coverage during the GA – 

https://pres-outlook.org/us/




Social Media 

–

Follow

#GA223

on Twitter; Like "

Spirit of GA

" on Facebook

Bookmark Our Special Page! – Our delegates will be sharing their unique perspectives on #GA223 throughout their journey in St. Louis on

www.staugpres.org/posa-ga
Our Delegation
A total of eight members will represent the Presbytery of St. Augustine at the 223rd General Assembly in St. Louis. They consist of two ruling elders, two teachers elders, a Young Adult Advisory Delegate (YAAD), a Theological Student Advisory Delegate (TSAD), our stated clerk and another member of the Presbytery who will provide encouragement and care for our attendees. Learn more about them below!
Mary Brown (RE)
Church: Woodlawn (Jacksonville)
GA Committee Assignment: Mid Councils

Ed Kelly (RE)


Church: Green Cove Springs, First (Green Cove Springs)
GA Committee Assignment: Church Polity and Ordered Ministry
Rev. Dr. David Lee (TE)
Church: Highlands United (Jacksonville)
GA Committee Assignment: Mission Coordination

Rev. Paige Porter-Buhl (TE)


Church: Covenant (Gainesville)
GA Committee Assignment: Social Justice Issues
Forrest Foxworth (TSAD)
Church: Fernandina Beach, First (Fernandina Beach)
GA Committee Assignment: Mid Councils

Emma Cottrell (YAAD)


Church: Community (Atlantic Beach)
GA Committee Assignment: Middle East Issues

Rev. Alexandra (Sandra) Hedrick (

Parliamentarian)


Church: Kirkwood (Jacksonville); Stated Clerk for Presbytery of St. Augustine
GA Committee Assignment: Middle East Issues

Rev. Joe Rigsby




Honorably Retired/Area Relationship Coordinator for Presbytery of St. Augustine