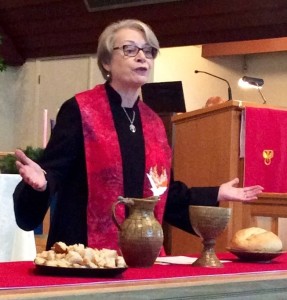 Ruth Elswood, who is serving as a chaplain in Gainesville and Jacksonville, was ordained on December 13, 2015, at Grace Presbyterian Church (Gainesville). The participants from around the presbytery were warmly welcomed by Charles Freeman, the pastor of Grace, and Ralph Moulder, a ruling elder of First Presbyterian Church of Starke, who is our presbytery moderator-elect.
The service included a reaffirmation of the baptismal covenant for the entire congregation. The Rev. Sandra Hedrick preached a message about call based on Psalm 139 and Luke 1:26-38 (Mary's call). After Ruth answered the constitutional questions in the affirmative, Ralph Moulder offered the declaration of ordination, and Ruth's husband Leonard Summers placed a red stole over her shoulders. She was charged by Paul Carter of Westminster Presbyterian Church. Hymn #398 ("There's a Sweet, Sweet Spirit") preceded the Lord's Supper, where Ruth officiated at the table for the first time.
The fellowship hall of the Grace church was a warm and welcoming setting for the fellowship time that followed. A large and delicious cake was the center of a feast that included a variety of breads, fruits, cheeses and other special foods.
The members of the commission were: Ralph Moulder (ruling elder at Starke, First and moderator-elect), Eileen Summers Carter (ruling elder – Westminster), Charles Freeman (teaching elder – Grace), Larry Green (teaching elder – Westminster), Sandra Hedrick (teaching elder – Kirkwood and stated clerk), and Susan Mickelberry (ruling elder – Highlands). Paul Carter (ruling elder – Westminster) and Sandy Faison (teaching elder – Highlands) were guests of the commission.