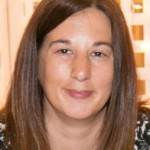 The Presbytery of St. Augustine welcomes Kristen Magda as our Communications Coordinator! She is excited about serving in this key role in our new presbytery structure. Kristen will be responsible for communications within the presbytery, including producing a newsletter, sending emails to large groups, maintaining and improving the website, promoting gatherings and events, and much more. 
Kristen, who has over 15 years of experience in the communications field, moved to the Jacksonville area last summer from Massachusetts. She most recently worked as the Associate Director of Communications and Media Relations at Stonehill College, a small Roman Catholic liberal arts college near Boston. 
In that role for eight years, she worked closely with the college's senior administration in developing institutional messaging while serving as the college's lead news writer. She also co-managed the school's social media accounts and played a critical role on its emergency response team.   
Prior to that, she worked in athletic communications for six years where she oversaw publicity for several athletic programs, first at Brown University in Rhode Island and then at Nichols College near Worcester, Mass.
Kristen and her husband Andrew have a five-year old son named AJ and reside in Fleming Island. She comes to us from a Roman Catholic background (her uncle is a priest in the Ormond Beach area). 
You may welcome Kristen by email – kristen@staugpres.faith or phone (904) 733-8277 (x122). She looks forward to serving with us in our mission: "to support our faith community, so that together we may witness to the gospel of Jesus Christ."
With joy and thanksgiving,
 The Bridge Staffing Team
Jeff Welch – Moderator
Mary Mickel – Moderator-Elect
Ralph Moulder – Council Moderator
Edd Norris – Discernment and Design Team Chair 
Sandra Hedrick – Stated Clerk