Afterward – Thursday, June 21, 2018
Update from Commissioner Paige Porter-Buhl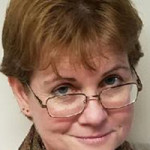 GA 223 was a whirlwind of conversation, new friends, earnest faces, and visionary ideas, beginning the moment I stepped into the baggage claim at the St. Louis airport. There volunteers gathered newly arrived participants together and shepherding us into busses to the various hotels. My seatmate on the bus was a volunteer worker from the Gaza border, elsewhere on the bus was a missionary from… somewhere… but our conversation was cut short as we were hurried to our seats.
The days were unexpectedly grueling. Substantive ideas, both new and old, both interconnected and independent, seemed to float through every conversation and overtures, enticing one's mind to stay active and nimble. One's body was primarily still: sitting at a table at plenary, sitting at a table in committee, sitting at a table for meals, always sitting from early in the morning until late at night. Posting the blog entries on the Presbytery Musings page for all the delegates at GA was a delightful activity, and so was knitting, but neither could substitute for a long leisurely walk or jog. About every other day I was able to hit a treadmill for a few minutes, but it didn't seem enough. In a humorous mood I considered suggesting for the next GA that they install treadmills in the huge plenary hall along with the tables and chairs for those of us who like to keep moving, but that's not the most realistic of suggestions.
The stories told by overture advocates in the Social Justice committee room seemed to come straight out of biblical times, reminiscence of the people who approached Jesus with their pleas, often one by one – a father pleading for a son, a young boy bravely standing up on principle, visionary women sharing with us their experiences of hope and change. We stayed at our seats through each story, asked questions that often seemed impersonal. The system seemed to embody the stern grimace of justice more than the gentle touch of mercy, yet there were those who sat at the back of the room who were there to hug, to listen to care. They too were a part of the system so that justice and compassion worked in tandem, neither forgotten.
Worship was both gloriously emotionally moving and utterly intellectually fascinating. Sounds and colors, fabrics of different textures, music and spoken voice all blended together to a whole. I eagerly stayed through the last moments of the closing worship, though many had to leave to catch early planes and other transportation home. I wanted to savor every moment. As exhausted as I was, I was reluctant to leave.
I had homework to read overtures and resolutions before the event, and as I flew back on Sunday, I realized how much homework I have before me afterwards to share ideas, liturgical snippets, research odd references to books that I had yet to read. It may take me fully the two years to unpack all the meanings and ramifications, and – by then – it will be time for us to send another group of people to GA, and the cycle will begin again.
-Paige
---
Day 8 – Sunday, June 24, 2018

Update from Commissioner David Lee
What A Week in St. Louis at the 223rd General Assembly of the PC(USA)!
There were wonderful intentions this week to 'post' a number of times. I appreciate my fellow GA attendees on their excellent efforts to do just that. GA is an amazing week that is exhilarating and exhausting, challenging and very rewarding. It's a week of theological and ecclesial stretching for each commissioner and for the Body of Christ that is the PC(USA). There are so many experiences with such depth that one would be hard pressed to remember even a portion of them. Amazing worship experiences, amazing people with remarkable skills who are doing ministry locally and globally in remarkable ways.
GA is about many things. For many it's a rare opportunity to 'catch up' with people from your past. For me it was a delight to see a few people I haven't seen since the day I graduated from Union Seminary. One of them, a pastor now serving in Milwaukee name Jim, was the very first person I met on that campus about 41 years ago. We were both at UTS on a 'discernment weekend' and both spent the next four years, as friends, in the midst of our theological education.
On Tuesday afternoon, as we were waiting for the "Hands and Feet" initiative march to the St. Louis jail to protest an unjust system of 'cash bail,' I was approached by a young man who asked if I was David Lee. I told him 'yes' and he introduced himself as "Daniel." Daniel, all grown up and at the GA as a young pastor serving a church in Illinois was a child in my arms 27 years ago when I was serving the Concord PC in Statesville, NC. What an amazingly gratifying experience. To meet a living embodiment of the commitment of that church to its baptismal vows was for me a thrilling moment.
At GA you watch transitions take place as Moderators who have served faithfully for two years pass the mantle, not to mention the stoles and the gavel, to newly elected moderators who will do the same for the next two years. Outgoing moderators, the Revs. Denise Anderson and JanEdminston congratulated and installed the new Co-moderators, The Rev. Cindy Kohlmann of the Presbytery of Boston and Northern New England and Ruling Elder Vilmarie Cintron-Olivieri from a church in the Presbytery of Tropical Florida (Miami). The new moderators immediately took up the mantle and presided over an historic week in St. Louis.
On Sunday morning we went to worship "GA" style with commissioners boarding buses to attend churches with the bounds of Giddings-Lovejoy Presbytery which hosted the GA. The Committee on Local Arrangements (COLA) did a fantastic job all week, but none more evident than the coordination of almost 1000 commissioners and guests boarding buses to be taken to churches for worship and then lunch. The hospitality of the people in and around St. Louis and in these churches was incredible. I attended the Grace Presbyterian Church in Crystal City, Mo., which also happened to be the home church of one of my parishioners at Highlands. A small town church with a big heart hosted 20 of us from the GA and fed us spiritually and physically with apparent great joy.
Beginning Sunday evening the GA is divided amongst a number of committees which consider hundreds of overtures submitted for Prebyteries across the country. Rather than discussing what was considered I would offer that this process is grueling and challenges each commissioner and advisory delegate to read, study, debate and debate some more, vote and then send overtures back to the whole body for consideration. It's a testimony to our dedication to the polity of the church and our desire to do things 'decently and in order,' even if it takes all night.
On Tuesday afternoon at the invitation of the Stated Clerk we were invited to participate in a march to the St. Louis City detention center to protest by our presence the inequitable system of 'cash bail' that has hundreds incarcerated and awaiting trial who are unable to post 'cash bail. It was a blistering day and hundreds of Presbyterian delegates and friends took to the streets of St. Louis. We were an amazing variety of sizes, colors, languages, genders, etc.
United by the singular purpose of expressing in the living, breathing, corporate boy of the GA what we believe to be an unjust system of detention while awaiting trial that includes for many being sent to what is known as the 'work house' which is a medium security facility housing over 500 'inmates' none of who have been to trial. People, many of whom have been arrested for misdemeanors, even traffic violations, are kept until trial if unable to post bail, sometimes for months. Jobs are lost, families are affected, and these people in spite of our 'presumption of innocence' spend time in jail. In the months preceding GA and at the Assembly offerings were gathered to help post bails for many of these inmates. Our stated clerk, J. Herbert Nelson, delivered $47,000.00 to help secure bail for people incarcerated and awaiting trial.
Wednesday through the final worship of the GA on Saturday morning is a whirlwind of action which such an array of reports and decisions as to be mind boggling. In one moment we are discussing the plight of native American churches in need of support and in the next we hear reports concerning the question of divestiture in fossil fuel. We talk about, pray about and debate items as important as family leave and then moments later have serious discussions about the Middle East. What is consistent about all of these reports, overtures, suggestions and request for new policies for the PC(USA)? The passion and fervor of these presenting, supporting and sometimes opposing these programs, changes, and new directions for our denomination. Even still, underlying all of that, is the definite belief in the fact that in the midst of the process the presence and power of the Holy Spirit is moving us ever forward, always reforming, always seeking the will of God in each decision. Not all decisions are popular. Most were met with great enthusiasm and joy. Some left people wondering, sad and disappointed. But if we believe in the Lord of our polity we must believe that God is in control, even of the GA of the PC(USA).
– Dave
---
Day 8 – Sunday, June 24, 2018
Update from Commissioner Paige Porter-Buhl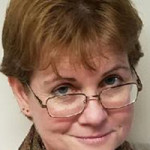 The plane's wheels hitting the runway at the Gainesville Regional Airport jolted me awake.
I am back. I have seen our decision-making process in motion, a press of overtures and amendments pushing themselves forward through the schedule, with very little time to reflect back on the whole as one decided and voted. I saw Robert's Rules of Order brought alive, bringing order and progress out of chaos.
I have seen some of the invisible workings 'behind the curtain." literally when I wandered into the temporary office space set up behind the stage, and figuratively as I watched networking between pastors, and the various advocacy groups encouraging, guiding and supporting commissioners and advisory delegates throughout the process.
I have wandered the expo and bought some beautiful stoles… and was gifted with seminary-labeled swag.
I have guzzled can after can of caffienated soda..
I have worshiped with marvelous song, with dance and with words of praise.
I have seen the community at work, all eagerly sharing their voice and viewpoint, all eagerly seeking God's leading for our lives and denomination.
As the plane slowed down and started navigating to the gate, my eyes closed and I gained a few more moments of rest and ponderings about how I can use what I learned in my corner of the world. Snippets of liturgy and song flowed through my mind… Books that I had purchased during the event were already waiting for me at home.
The closing benediction for GA 223, 2018 has rung out in voice and song… but the impact of the event for our lives and communities has just begun.
-Paige
---
Day 7 – Friday, June 22, 2018

Update from TSAD Forrest Foxworth
Time to break out the wallets!

All jokes aside, the work of the GA continues today. We have wrestled with some tough issues this week; and consensus has brought exciting possibilities. That also means more tough decisions. What happens when prayerful discernment leads our body to new activities… above and beyond our current budget?

Personally, I am excited about this new chapter in our denomination.

– Forrest
---
Day 7 – Friday, June 22, 2018

Update from TSAD Forrest Foxworth
We are almost to midnight here and still going strong!!!

These people are awesome!! After all this time and all this debate, our leaders are still carefully deliberating and respectfully communicating their ideas.

Well done PCUSA. We should be proud.

– Forrest
---
Emma spoke to the GA Plenary three times.

Below are Emma's notes for one of the speeches.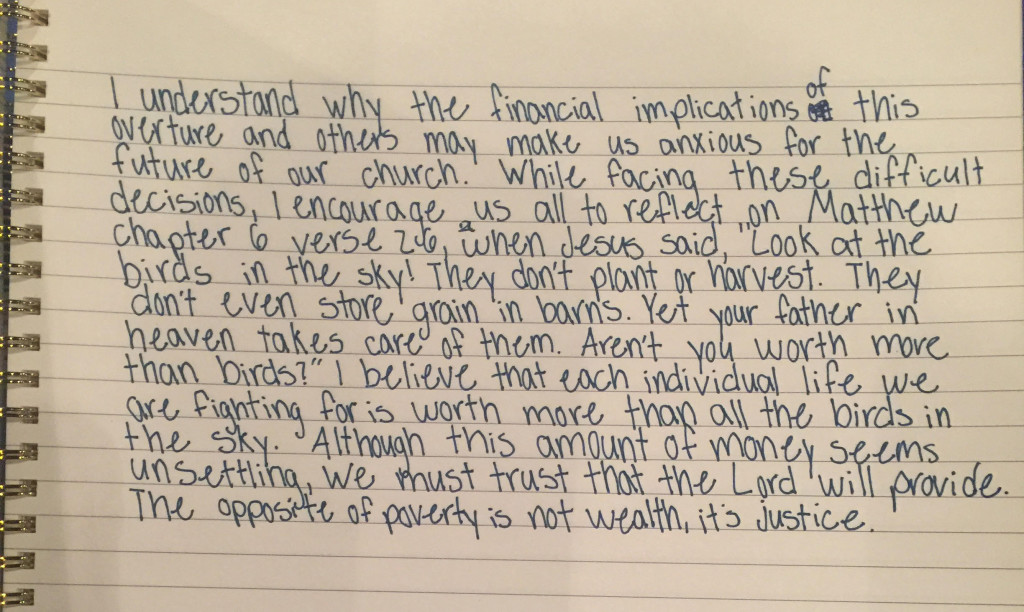 ---
Forrest spoke at the GA Plenary to a resolution examining the number and application process of Advisory Delegates at General Assembly.

I was arguing for a particular outcome… but it was also a wonderful opportunity to express thanks for my inclusion this year. And it was an opportunity to praise the other TSAD's involvement in the Assembly.

– Forrest
---
Paige spoke during the GA Plenary on the need to speak strategically about the effect of technological changes on our congregations.

This tiny initiative was wedged in between issues as weighty as gun control and clerical child sexual abuse. I'm not surprised it didn't pass, but I'm glad it got an airing.

– Paige
---
Day 7 – Friday, June 22, 2018

Update from Commissioner Paige Porter-Buhl
Mary with Mission Co-worker Leisa ToniAnn Wagstaff from South Sudan and Mission Co-worker Farsijana Adeney-Risakotta from Indonesia on a break during our long Thursday afternoon session

– Paige
---
Day 7 – Friday, June 22, 2018

Update from TSAD Forrest Foxworth
I have really enjoyed walking around St Louis in the brief moments between sessions.

But no time today!

We have a lot on the agenda… Big discussions around investing, environmental issues, the Middle East, Church polity, and more. If you need us, we will be in Hall 5 all day… and well into the night!

– Forrest
---
Day 7 – Friday, June 22, 2018

Update from Joe Rigsby

In observing the work of the 223rd General Assembly, I believe the work of the committees has gone well with listening ears, deliberate thought, and prayerful decisions for recommendation to the Assembly. The committees completed their work on Tuesday, June 19th.

I am so proud of our Commissioners, Young Adult Advisory Delegate, Theological Student Advisory Delegate, and our Stated Clerk. They have represented the Presbytery of St. Augustine with great integrity and dedication.

In the Assembly plenary sessions, great debates have taken place with great respect for each person's opinions being heard. Of course, there will be more complete details given on many of these decisions later. Commissioners overelmingly approved the Way Forward Plan which is a new vision for structure and function of the PCUSA.

The General Assembly confirmed the Rev. Dr. Diane Moffett as president and Director of the Presbyterian Mission Agency. She comes to the Program Mission Agency from the Saint James Presbyterian Church in Greensboro, NC.

The General Assembly elected the Rev. Thomas F. Taylor to a third term as president and CEO of the Presbyterian Foundation. The Foundation receives, on average, 24,000 new gifts a year.

Former General Assembly Stated Clerk, Rev. Gradye Parsons, was honored by receiving the C. Fred Jenkins Award. This award is give to those who have "given wise, prudent, and vigilant support to Constitution and polity of the PCUSA.

The Assembly reaffirms PC(USA)'s inclusiveness requirements, noting the declining nature of the Black congregations in the PCUSA. More than half of the predominantly Black congregations in the PCUSA cannot afford installed pastoral leadership.

The Rev. Jim Atwood, who received the Guild's 2018 distinguished writer award. At the Writers Guild luncheon, he said, "The most effective thing you can do about gun violence is talk about it-from the pulpit, in the classroom … and when you're in line at the grocery store. He also said, "Each of the 39,000-gun victims last year were born in the image of God and is a neighbor that God commands us to love. Can you think of anything more spiritual than that?"

MORE NEWS WILL COME!

– J. W. Rigsby
---
Day 6 – Thursday, June 21, 2018

Update from Commissioner Mary Brown
My day began as I joined others singing hymns of praise and giving thanks to God for this wonderful opportunity to work with others in completing the tasks assigned. As I listened, I became more aware and the need to work individually and collectively to address the issues of injustice, racial prejudice and other social injustice issues.

I ended my day attending the awesome "Hands and Feet" celebration with Kirk Whalen.
---
Day 6 – Thursday, June 21, 2018

Update from Stated Clerk Sandra Hedrick, GA Parliamentarian

Now that it is Thursday morning, we are well into the agenda for the plenary sessions! Yesterday I had some adventures at Microphone 1, where I am assigned as a floor parliamentarian for most of the Assembly. Folks check in at the microphones before they can speak on an issue. One commissioner became very emotional and visibly/verbally frustrated about having to check in and take the time to write down his proposed amendment so that it could be projected correctly on the screen. He threw down on my desk the pen and motion form I tried to hand him. (It all worked out in the end.) Many others come by just to ask parliamentary questions about what is going on and how the process works, and I am glad I can help. Another highlight of yesterday for me was running into the Rev. Amy Hunt, a member of our presbytery who is currently serving as an Air Force Chaplain.

Last night was a late one – we got back to our hotels close to 10 p.m. That made me even more grateful this morning for the DAILY email we all get from Joe Rigsby providing prayers, poems, little jokes, and powerful encouragement for the work of the day. I feel prepared to go to Microphone 1 and assist those who are wanting to speak on the main issues of the day: the ones that came before the committees on Peacemaking, Immigration and International Issues, "The Way Forward," and Social Justice.

-Sandra

Afternoon Update from Sandra: The commissioner who got frustrated at Mic 1 yesterday gave me a bag of donut holes this morning 🙂

Rev. Sandra Hedrick (right) with Rev. Amy Hunt (left).

The view from Microphone 1
---
Day 6 – Thursday, June 21, 2018

Photo Update from Joe Rigsby
---
Day 5 – Wednesday, June 20, 2018

Update from Commissioner Mary Brown

Myself and fellow Commissioner Rev. Paige Porter-Buhl getting ready for worship service!

-Mary
---
Day 5 – Wednesday, June 20, 2018

Photo Update from Rev. Chris Lieberman

Presbytery of St. Augustine member Rev. Chris Lieberman, who was recently named the Presbytery's Relationship Coordination Director, shared some of his photos with us from #GA223. Chris served on the leadership team for the Ecumenical and Interfaith Relations Committee. Chris will begin his duties as Relationship Coordination Director on August 1.
---
---
Day 4 – Tuesday, June 19, 2018

Tonight, members of the Presbytery of St. Augustine attending the 223rd General Assembly in St. Louis met for dinner.

(L-R): Rev. David Lee, Mary Brown, Emma Cottrell, Forrest Foxworth, Rev. Joyce Lieberman, Rev. Sandra Hedrick, Rev. Chris Lieberman, Ed Kelly, and Rev. Joe Rigsby
---
Day 4 – Tuesday, June 19, 2018

Update from Commissioner Paige Porter-Buhl

The atmosphere as we gathered in the now oh-so-familiar conference room was relaxed and quiet. Our deliberations lasted until nearly 11 p.m. last night – which meant yesterday we all endured a 14-hour-plus day. We heard heart-wrenching testimony from overture advocates as they spoke of experiences of injustice and abuse, offered pleas for healing and shared with us their prophetic visions for the future.

A young boy's voice grew hoarse while offering his reflections on the death penalty, making it hard for us to hear, so an adult re-read his appeal later in the day on his behalf. A spouse spoke of the life-long effect of clerical child abuse on his now deceased wife, stating simply that it's not just the survivor who is the victim when this happens, but the family and the community. A Teaching Elder proclaimed: "I'm living the life I dreamed but I know there are others who still can't." A presbytery rallied around the words of an 80 year old parishioner who wrote a poetic creed, an affirmation of identity, flawed maybe, but beautiful. The love of those who rallied around the poet spoke as loudly as the words themselves.

A commissioner broke our heart when he loudly but with self-reflective humor confessed that his hope was broken. "Don't vote on this" he told us, "not because it's not true, but because it won't make a difference." We felt his pain and our hearts resonated with his despair.

The sun was long gone when we closed with a benediction last night. So exhausted were we that many of us could no longer make sense of the words in front of us on our computer screens.

We have experienced much together, and now we are back for another day.

-Paige

9:30 p.m. Update

A PC(U.S.A.) GA 2018 experience I will never forget: Composing poetry as a committee.

-Paige
---
Day 4 – Tuesday, June 19, 2018

Update from Joe Rigsby

After the first three days of the 223rd General Assembly, I am giving a few reflections. During this time, there was a spiritually moving opening worship centered on the theme: "Kingdom Building for the 21st Century." The offering during that worship was almost $40,000.00. It will be used to support the justice ministry of the Presbytery of Giddings Lovejoy.

For the second time in succession, the General Assembly has elected co-moderators, the Rev. Cindy Kohlmann and Ruling Elder Vilmarie Cintron-Olivieri. Ruling Elder is Cintron-Olivieri is from Tropical Presbytery and the Rev. Kohlmann is from Boston. Two of their pledges are to celebrate our diversity and to think outside the box.

We chose to worship at different churches Sunday. I chose to worship at Cote Brilliante. This is an African American Congregation. The surrounding community was once totally Caucasian. That congregation, during the days of segregation raised money to support a family that fought to keep an African American family from moving in the neighborhood. The Colt Brilliante Congregation has now occupied that facility for 60 years. Colt Brilliante has a rich history and has a thriving ministry in the community.

The Standing Committees are meeting through Tuesday. Our commissioners, YAD, and TSAD are very active demonstrating strong dedication and leadership on the committees they are serving.

In my observation, the PC(U.S.A.) has become more reformed in action and in practice. The Bible Study leaders this week have emphasized the fact that the church is called to challenge the issues that promote the suppression and unjust practices upon people who are powerless, and economically suppressed.

– J. W. Rigsby

Colt Brilliante Presbyterian Church

The Dardenne and Third Presbyterian Church Choirs during the opening reception of the 223rd General Assembly
---
Day 4 – Tuesday, June 19, 2018

Update from Commissioner Paige Porter-Buhl

Presbyterian Disaster Assistance Hurricane Season '17 Associate for Emotional and Spiritual Care

This may be the second-longest title in the PCUSA. It belongs to Kathy Riley who sits in the back of the Social Justice committee room.

There's another word for this title. The word is: "Love."
---
Day 4 – Tuesday, June 19, 2018

Update from Commissioner Mary Brown

Good Morning All:

Here are a few reflections from Monday

"Oh How Great is Thy God" is how I am feeling. Yesterday, I had the opportunity to serve on a seven member Task Force sub committee to review an Overture from the Synod of the Covenant and bring back a recommendation for the committee to accept and approve for the next Plenary Session. It was a really great experience with work with a group of like minded Christians.

Love and Peace,

Mary
---
Day 4 – Tuesday, June 19, 2018

Update from TSAD Forrest Foxworth

We have some wonderful leaders at every level! Big thanks to Rev. Cindy Kohlmann, our new General Assembly co-moderator (left), and our own synod's Executive & Stated Clerk Rev. Joyce Lieberman (middle). We are blessed by your leadership.

-Forrest



---
Day 3 – Monday, June 18, 2018

Update from Commissioner Paige Porter-Buhl

Note to self: When writing an amendment to an amendment in longhand on carbon copy in quadruplicate, be sure to get the grammar and punctuation correct.

-Paige
---
Day 3 – Monday, June 18, 2018

Update from TSAD Forrest Foxworth

Committee work has begun!

-Forrest
---
Day 3 – Monday, June 18, 2018

Update from Stated Clerk Sandra Hedrick, GA Parliamentarian

At General Assembly there are 14 committees, each of which will review part of the business of the Assembly before it goes before all the commissioners/delegates on Wednesday. The committees have names like "Mission Coordination" and "Social Justice Issues" and "Ecumenical and Interfaith Relations." Each has 50 or more members. Several months ago I was asked to serve as the parliamentarian for the "Middle East Issues Committee." Last night the committee met for worship, orientation, and group-building. The moderator of the committee is a minister from Detroit, and she preached a sermon about each of us being a part of the body of Christ and all of us together waiting and listening for the Spirit moving among us. This morning is finally the day that the committee begins to take up its business! This morning I prayed that the Spirit of God will be felt powerfully in every committee and that God helps me do what I am called on to do in the Middle East Issues Committee in a competent and faithful manner. The word from 1 Peter 5:7 came to me at the end of my prayer time: "cast all your anxiety on God, for he cares about you." Amen.

– Sandra
---
Day 3 – Monday, June 18, 2018

Update from Commissioner Paige Porter-Buhl
| | | |
| --- | --- | --- |
| | | The work starts here in a half hour. |
More than half the room is designated for overtures advocates, resource people, press and observers

– Paige
---
Day 2 – Sunday, June 17, 2018

Update from Stated Clerk Sandra Hedrick, GA Parliamentarian

After some spirited presentations and multiple ballots, the Presbyterian Church (U.S.A.) has elected the co-moderators of the 223rd General Assembly. They will serve us for two years until the 224th GA in 2020. Congratulations to and prayers of blessing and encouragement for Ruling Elder ‪Vilmarie Cintrón-Olivieri and The Rev. Cindy Kohmann!

-Sandra

Ruling Elder ‪Vilmarie Cintrón-Olivieri and The Rev. Cindy Kohlmann have been elected as Co-Moderators of the 223rd General Assembly!
---
Day 2 – Sunday, June 17, 2018
Update from Commissioner Paige Porter-Buhl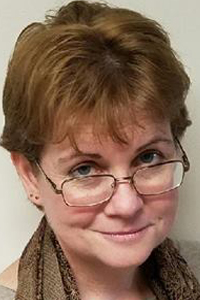 Settling in for the night, I stare at my computer screen to research the overtures I'll be voting on as a part of the Social Justice Committee. But I can't focus on the words displayed in the PC-Biz program in alternating blue rows.
Interrupting my contemplations are series of faces:
The face of a woman from the Atlantic Korean-American Presbytery who sat next to me during lunch and who swapped stories with me about our kids.
The face of a YAAD (young adult advisory delegate) who radiated so much fun and humor while gesturing to a friend across her table at the first night reception that several of us standing behind the friend thought she was gesturing to us. When she realized what happened she came over and introduced herself then shared with us her story about going through YAAD training in the days before GA started. She semi-humorously, semi-seriously admonished me to take great heed of YAAD advisory votes because what we decide now, in the present, affect her life in the future.
The face of a ruling elder delegate from another presbytery I sat next to when getting a quick bite to eat. "Now don't get me started" she said after I mentioned something in the news. All it took was "Oh? Tell me?" for her to share with me how the events in recent headlines have affected her, her family and her community.
The face of a woman who sat next to me on the shuttle bus from airport to the hotel. She was not a delegate nor a commissioner, but someone who has spent much of her time volunteering in Palestine and Israel as a part of the peace effort. She shared with me stories of what she had seen of the Gaza border: 17-year-olds who had been issued guns. An elderly dignified matron getting her face and hair smeared with peanut butter against her will. Women giving birth in the dust in front of the guards because they were not given permission to cross the border to get to a hospital.
Each one of the people I met had a story to tell. Each person who I talked to taught me something, changed me, blessed me.
I tried again to push the faces aside so I could focus on the issues presented before me on my computer screen, then the faces of the YAVs (young adult volunteer) instructing us during the Plenary floated up in my mind. I chuckled to myself when I remembered the rather humorous training vote we took on which were better: Star Wars, Star Trek, or the newer Marvel Universe movies. Engage in relationships, we were told as a part of that same training: be willing open to the stories told by others.
I closed my laptop. The faces floating in my mind interrupting my studies are not a distraction, but my work. I will have time to study the overtures at length before my committee next meets. For now my task is to pray for the people I met and ponder the stories they tell.
– Paige
---
Day 2 – Sunday, June 17, 2018
Update from Commissioner David Lee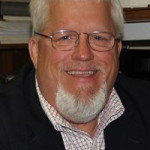 GA Family Reunion:
OK You are a GA commissioner standing off to the side of a room at a reception given for you… and a few hundred people you don't know. You scan the crowd looking for somebody you recognize. Maybe one of your Presbytery friends, who, of course you don't know all that well either. Then your eye settles on someone familiar. In my case it was a guy named Jim I first met 40 years ago at a seminary inquiry weekend at UTS-VA. We were friends and class mates. Part of a family called Seminary. After graduation we, as did all, went separate ways. Today our larger family called the PC(USA) reunited us. We look a bit older. Hopefully a bit wider. Both pastors for over 35 years. But, we shook hands, embraced and because he's my church sibling , he was the same Bill and I the same Dave. Catching up on 40 years didn't take all that long. I'm glad I was chosen to be at GA to get the chance. It's a nice big family. Even the ones I don't know look a lot like my brothers and sisters now.
– Dave
---
Day 2 – Sunday, June 17, 2018

Update from TSAD Forrest Foxworth
Mary and I loved worshipping with the incredibly gracious community at Third Presbyterian!! Big thanks to Pastor Cedric Portis and the choir for leading us. (And special shout out to whoever made the peach cobbler.)

– Forrest
---
Day 2 – Sunday, June 17, 2018

Update from Commissioner Mary Brown
On my way with other commissioners to Third Presbyterian Church in St. Louis

– Mary
---
Day 2 – Sunday, June 17, 2018

Update from Commissioner David Lee
Worship– GA STYLE Green buses loaded a few hundred worshipers who were distributed around Giddings-Lovejoy Presbytery 's many churches. All description of Presbyterians attend all kinds of host churches to be fed on the Word and then lunch. Gracious pastors and parishioners greet commissioners and other GA folk as the 'church' dispersed meets the church at home.

– Dave
---
Day 1 – Saturday, June 16, 2018

Update from TSAD Forrest Foxworth
The St Augustine crew is ready!!

– Forrest
| | | |
| --- | --- | --- |
| | | Sandra, one of two parliamentarians assigned to microphone 1, is also ready! |
---
Day 1 – Saturday, June 16, 2018

Update from Commissioner David Lee
Of all the things that make up the GA none are more important and inspiring than the Church at worship. It is truly a humbling experience to be a part of a service of worship that represents our whole denomination. Every Synod and Presbytery are represented which means ALL Presbyterians (USA) are represented. What unmistakable joy and privilege.

May God bless our church.

– Dave
---
Day 1 – Saturday, June 16, 2018

Update from TSAD Forrest Foxworth
Seats are filling up! It's almost time!!!

– Forrest
---
Day 1 – Saturday, June 16, 2018

Update from Commissioner David Lee
GA is all about opportunities to convey a perspective for the life of individuals, groups and groups with a cause the wish to be addressed. Here is a group for the support of a 'fossil free' Presbyterian church entering the Americas center. We'll here many, many messages from divergent sources this week. Joyfully singing 'love the Lord, Lord, Lord with all your heart, the group marched the length of the great hall.

– Dave
---
Day 1 – Saturday, June 16, 2018

Update from Stated Clerk Sandra Hedrick, GA Parliamentarian
A preview of the main meeting room for General Assembly – Our delegation will be seated at these two tables.

– Sandra
---
Day 1 – Saturday, June 16, 2018

Update from Joe Rigsby
| | | |
| --- | --- | --- |
| | | Our delegation at the Synod of South Atlantic Breakfast 7:30 AM |
---
Day 1 – Saturday, June 16, 2018
General Assembly begins today. Here is some information about the people attending.

---
Arrival – Friday, June 15, 2018

Update from Commissioner David Lee
Its exciting to see the PCUSA emblazoned on the sign outside America's Center… we need to be on more signs…

– Dave
---
Arrival – Friday, June 15, 2018

Update from Stated Clerk Sandra Hedrick, GA Parliamentarian
---
Arrival – Friday, June 15, 2018

Update from TSAD Forrest Foxworth
Landed in St Louis with a bunch of things to do… but first, BBQ. #priorities

– Forrest
---
Preparations – Thursday, June 14, 2018
Update from Commissioner Paige Porter-Buhl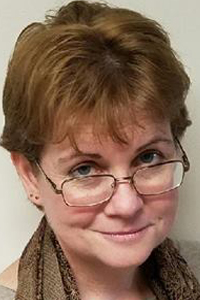 Until about a week ago, I thought of General Assembly in the abstract as a bureaucratic machine, an engine chugging along, mostly silent, but with the occasional warning whistle or mechanical groan, an engine which has the purpose of keeping the wheels of our denomination ever-moving towards the future.
I volunteered to participate as a cog in this machinery in part so I could grow my knowledge of this denomination, which has been so much a part of my adult life, and in part because I thought it would be a semi-vacation, an early-summer break in the everyday challenges of my life as pastor, software developer, and parent.
After I received my committee assignment and I was sent information about the overtures and issues with which I needed to become conversant, the seriousness of the week ahead began to sink in.
Sometime around then, I also learned that they entire event would likely be broadcast for all to see. Then a fellow St. Augustine clergy person, upon hearing that I was going to GA, advised me in a rather loud and expansive voice: to – "don't do stupid!"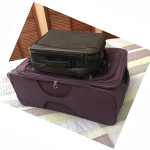 Confronting my own growing nervousness, I began to worry that the week might become an exercise in witnessing my own or other's social anxiety, narcissism or, worse, I'd become a witness to deep divisions and intractable conflict. What was I getting into?
Then to my astonishment, during the training event last week, I heard someone I deeply respect who has attended several GA sessions describe the experience of GA as "One of the most joyful experiences of my life, an experience in which I felt whole." What I remember most is not her words but how her face changed while she spoke them. I could see her face relax, her eyes sparkle with a calm joy, as for a moment she seemed lost in a memory, some moment maybe among many, from a previous General Assembly session.
What is General Assembly? An abstract bureaucratic machine as I first thought? A time of self-conscious apprehension, conflict and/or grand-standing, as I had begun to fear? Or a place to find glimpses of joy, wholeness, connectedness and purpose?
While I pray for wisdom and discernment while I study the resources provided to me and pack my luggage in preparation for the trip, this is the question on my mind.
-Paige