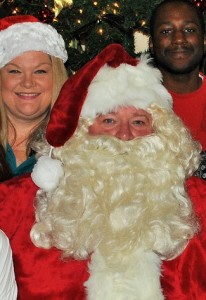 News to share from Montgomery Presbyterian Conference Center:
Santa Claus made a special trip to the Montgomery Presbyterian Conference Center the morning of December 12. Santa and his mighty crew served pancakes, shared the Christmas spirit while making crafts, took loads of pictures, and even got a little dirty playing Gaga Ball. It was a great event, and we are very grateful to have shared the spirit of Christmas with all of those who came and helped with the event.
Montgomery will be hosting a Girl's Retreat on February 13th and 14th. Please save the date and consider bringing young ladies who are between 4th-6th grade to an enriching, supportive event designed just for them.
It's time to start thinking about summer camp! Online registration for summer camp 2016 will open on January 11. We will have two exciting new camps to offer this summer, Discovery Champions and Night Owl. Discovery Champions is a sports camp aimed for faithful 4th-6th graders, while Night Owl is a new spin on the camp favorite, Power Light, for 9th-12th graders. Summer camp at Montgomery will have new games, a new blob, and we will continue the tradition of faith enrichment for our children and youth.
Please also be in prayer for us as we search far and wide for summer staff. We are looking for strong, courageous, loving 18-25 year olds to serve over 500 children and youth this summer. Being a part of summer staff gives college students and graduating seniors the chance to learn hands-on skills that transfer over to the workplace. A summer at Montgomery will not only fill you with life-long memories, but it will give you a chance to experience the love and grace that God gives in creation.