Dear friends in the ministry of all believers,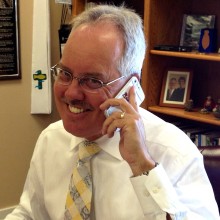 We are now approaching the time when your General Assembly commissioners are doing their reading for their work, all of the overtures and referrals are online, and the reality sinks in that there is much work to be done for the Church of Jesus Christ, Presbyterian branch, USA. These folks were commissioned at the most recent presbytery meeting and were all together in a room for the very first time. By this time next month, they will be the best of friends and bonded together forever. Please keep them in your prayers as they journey to Michigan to serve Christ and you.
There are a small number of issues in front of this year's assembly that will likely draw the most attention from a media standpoint and you will read about them as that week goes on (June 14-21). I will also be writing to you almost daily to keep you abreast of the work that these 800 faithful Presbyterians are doing on your behalf. The funny thing about the business of the General Assembly, however, is that there is always something unpredictable that grabs folks attention in both good and difficult ways. It could be criticism of the opening worship or celebration of an exciting and unexpected person being elected moderator. It might be a particular congregation bringing their local conflict to the national scene or an inspiring message of hope that catches us all by surprise. The best thing about being Presbyterian at those times is that we tend to act deliberately, faithfully, decently and in order, and respond in positive ways to the challenges God expects us to manage.
I love the meetings of the General Assembly of our Presbyterian Church (USA). I am always inspired by worship, always awed by the dedication of so many people from across the country, always thrilled to see my old friends and colleagues in ministry. It is a giant family reunion for me where I get to touch folks from St. Augustine Presbytery but also see friends from Greater Atlanta, East Tennessee and Redstone presbyteries as well. I visit with EP colleagues, meet new faces from our offices in Louisville and get reenergized by the folks from there whom I know well, and have a fine time with seminary presidents and agency staffers from around our church. A General Assembly is about way more than just doing the business of the church, as it should be. It is a celebration of our relationship with God in caring for the creation God has entrusted to us.
But of course there are issues to be discussed at the General Assembly which will generate some disagreement there and in the pews back home. Perhaps if we fully understand what we are debating and how that debate is handled, these will not surprise us or shock us when we see the morning paper. I hope to help in that conversation during the assembly and after as we transition back home from Detroit. Your commissioners will also welcome opportunities to meet with you on their return.
The question of same gender marriage is in the public forum right now and the church is not exempt from that conversation either, but it is not the same conversation that confronts the courts of our land. The Presbyterian Church is having the same conversation in parallel to the national conversation, however, and the waters get muddied by what is going on in the public square. Our conversation is about our understanding of Christian covenant and marriage and the understanding of God being with us in everything that we do as Christians.
The other issue facing the General Assembly that will generate a lot of attention will be the conversations around divesting ourselves of stock in companies that support the state of Israel in a manner that some think is inappropriate. Throughout our history, the Presbyterian Church has stood in the public square and spoken truth to power about the issues of the day, and it is entirely appropriate for us to do that. The debate will be over whether this issue is one that the whole church will address at this time and in what manner.
And these are only two of the committees of the General Assembly from among the 15 that will be doing work for us all. There is much going on at an assembly that does not make the headlines and we hope to be able to share all of that good news with you as well. You can also follow along from the PCUSA website where the assembly will be streaming live and updates will be posted.
I do not pretend to know how these issues or any other may play out in our General Assembly in 2014. What I do have faith in is that God will be glorified, and where we err we will receive grace and another chance to get it right in two more years. And I am also confident that nothing that we do at this assembly will separate us from the love and fellowship of God, nor is there any reason it should separate us from each other. And finally, the very foundations of the Presbyterian Church (USA) tell us that "there are truths and forms with respect to which men [and women] of good characters and principles may differ. And in all these we think it the duty of both private Christians and societies to exercise mutual forbearance toward each other." (PCUSA Book of Order, F-3.0105)
I look forward to talking to you from Detroit, if not before.
Peace and grace
Steve