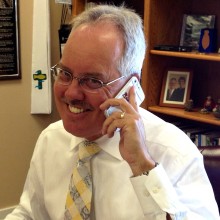 Dear friends in Dunnellon and Perry and Fernandina Beach and Palm Coast and all points in between,
Greetings to you all, in the name of the God whom we serve.
It is July! How did that happen so quickly? It seems we have only just celebrated Easter and Pentecost and next thing you know we are looking at the summer when we must begin planning for next year already. So goes life in the Presbytery of St. Augustine, and in the churches of your presbytery. While the summer days are sometimes lazy, we cannot wait until Labor Day to begin talking about how God would have us serve the church in the coming months and years.
I was at Riverside Presbyterian this week, worshipping in a sanctuary that I last set foot in back in 1968, and found myself in the middle of their Stewardship campaign. Now you all may know by now, I love talking about stewardship of all that God has allowed us to be stewards over and as we sang a hymn of stewardship I began to wonder. How many stewardship hymns are there in the Presbyterian hymnal? When I got to the office I checked. In the index in the back it lists two, neither of which was the one we sang on Sunday. Glory to God, the new hymnal, lists five, again, not the one we sang. And then, as I flipped through the hymnal it dawned on me…every hymn is a hymn of stewardship.
We sang, As Men of Old Their Firstfruits Brought, an obvious stewardship reference, but we closed the service with Here I Am, Lord, which is the ultimate stewardship hymn to me. Our Presbyterian understanding of God's grace is that we belong heart, mind and soul to God. If that is the case, then our entire existence is lived in service to God and nothing is excluded from that understanding. In considering our time, our talent and our gifts, it is our obligation and joy to commit all of them to our God and to Christ's Church. What is really wonderful for me to see as I travel around this presbytery is that we Presbyterians understand that and do indeed put our whole selves into the work of the Church.
Incumbent on us too, as faithful Presbyterians, is to understand our commitment outside of ourselves to the larger church. Our Teaching and Ruling Elders, as well as our Deacons where we have them, promise in their ordination to work in the councils of the church. I have been blessed personally to have served many fine Presbyterians in several presbyteries, including the Presbytery of St. Augustine, and it is my prayer that we will all understand our commitment to one another. The central council of the church in the Presbyterian system is the presbytery, in support of the work of the churches of which it is made up. The role of the General Assembly and the Synod is to support the work of the presbyteries in doing ministry in our local settings. The presbytery has long been my home, my support and the place where I experience God's people in ways that transcend our particular local setting.
We work together as a presbytery through mutual support and equipping for ministry. We are so much stronger together than we are alone! At presbytery meetings and other gatherings, I have witnessed members of different churches supporting one another in prayer and encouragement. Two of the many other ways in which we work together as a presbytery are through financial support for each other and through serving on councils of the presbytery.
We must remember that the presbytery is us.  It is you and your neighbors, not just me and the staff who serve you off in some faraway places like Jacksonville or Keystone Heights. The presbytery only exists as it meets and does the work that it is called to do by our polity. It functions to serve congregations and pastors, to equip people for mission and to become ministers, and to serve the one Church established by our Christ. That may seem nebulous at times, or far removed, but the work is very important to those whom we all serve, and I cannot imagine doing a more vital work for the church.
All of which brings us to the time when we commit ourselves anew to the work of our common mission in the world. We will begin our discussions of financial commitment to the work of the larger church in the coming weeks and I hope that we will all take that work seriously as we discern how God is leading us to be the Presbytery of St. Augustine right now. The work that we do together takes our first fruits to accomplish, from Jamaica to Montgomery to 1937 University Blvd W, and around the world through our mission partners. And the work that we do together requires us to commit to come alongside each other on the Committee on Ministry and the Committee on Preparation for Ministry and the Montgomery board and all of our entities that are vital to what it means to us to be Presbyterian. My prayer is that all of us will be in prayer about how each of us might come alongside. One of my favorite concepts of Christianity is the "with me" idea that none of us are alone in the work that we do for Christ's Church, and all of us are necessary to accomplish our mission together. Thanks be to God!
Peace and grace
Steve