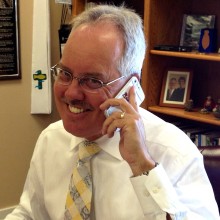 "Steve,
I just wanted you to know that you are in my prayers during the Lenten season. I pray that you and your churches are experiencing renewing grace during Lent and that your preparation to celebrate God's undying love in Christ is bringing hope to you and people in your communities. It's good to be partnering with you in God's mission."
So read the note of hope and encouragement that I received from Ray Jones in the offices of the General Assembly in Louisville. Ray has covenanted with me to pray for my work and ministry as together we all serve Christ in this portion of God's creation. Ray checks in with me periodically just to let me know that he is praying for me, and for us, and I have been surprised by how important it is to me to hear from him. I have not actually met Ray, I hope to do that this summer at the General Assembly meeting in Louisville, but we have a bond that is called Church. I love that!
A group of pastors from the Jacksonville area met last week at the breakfast table at the Riverside Presbyterian House to fellowship and pray together. We had two ministers who have served this presbytery for 34 years and one who has been here since Ash Wednesday, and just about every iteration in between. This breakfast capped a wonderful month for me of lunches and gatherings around the presbytery (Gainesville at Kanapaha, Ocala at Ft. King, St. Augustine at Memorial, interim pastors at Picasso's (actually not a church, don't go looking through the directory) and Jacksonville area today.) I am blessed by all of those gatherings and I pray that I am a blessing as well.
I attended a gathering of local denominational leaders recently (from Baptist to Catholic, and everywhere in between even including the Salvation Army) and the subject of maintaining our fellowship was the topic of the day. The chair asked us to go around the table so that everyone would be able to speak, not just the loudest voices. One after another these pastors and elders in their respective traditions voiced their support for the collegium "as long as I continue to get something out of it." When I heard the first person say that I understood what he meant. By about the fifth or sixth or fifteenth time I heard it, I was beginning to feel uneasy, and fortunately for me I was near the end of the line so I had time to reflect on what I was hearing.
When my turn came what I said was, "I will continue to be a part of this fellowship as long as you get something out of my being here." Before I self-congratulate too much I must confess that I often only do things that gratify me, and if they don't, I don't do them. But I believe God gave me the time to be able to formulate that thought before I had to speak, and I believe that God continues to call me to account for that. I will continue to be a part of these fellowships as long as you get something out of my being with you. And I hope that you might all continue to embrace that philosophy as well. We missed some folks at each of the gatherings, and many of them will be at the next, and we pray for their return to our fellowship because we are all a part of each other.
Because we get something out them being there, and hopefully they get something out of our being in covenant with them. In this season of Lent, we need each other more than ever, just as we need our God. And the wonderful good news is that God has covenanted with us to be present, and has covenanted with us to be present with each other as well.
Thanks be to God. And thank you all for your service to Christ's Church.
Steve
To see these pictures in our Facebook page,

click here

.

| | |
| --- | --- |
| | |
| Delicious clergy breakfast in Jacksonville hosted by Riverside House. Lots of laughter going around! | Great clergy lunch gathering at Memorial Presbyterian in St. Augustine. Was that chocolate pie or chocolate cheesecake? |
| | |
| Clergy lunch in Ocala at Ft. King Presbyterian. Delicious food, Andy! | Thank you Pastor Dawn for hosting a great Gainesville area clergy lunch at Kanapaha Presbyterian Church! |