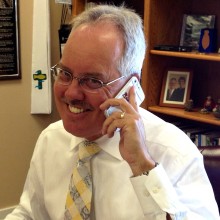 Dear friends in service to our Lord Jesus Christ, 
The word is Stewardship, and it is such a wonderful word with such a bad reputation. I have been told more than once, "We don't do the 'S' word."  I have often wondered why that is, because the concept of being a steward of God's creation, of tending to the earth that God has entrusted to us, is such a powerful image.  It evokes covenant and care, great responsibility and great reward, and a strong understanding of the relationship God wants to have with us.  
I love the word stewardship and am grateful to God that I am allowed to participate in restoring creation.  Think about that.  If God is indeed as powerful as we profess, why would God need us to do anything for creation?  That God does let us participate, indeed expects that we will, is truly a gift from God.
The commitment forms are still trickling into the presbytery office but we have a pretty good idea of what our budget will look like now for 2014, and it is about what we have expected. The giving from 2013 is pretty flat going into 2014, which does not surprise anyone because our efforts to increase the commitment level of our churches did not begin until near the end of 2013 with the expectation that 2015 would be the year we might begin to see increases in giving to the larger church. I still hope that.
Twelve of our congregations did raise their support level in 2014 and I highlight them to you.  Our Bethlehem, Fairfield, Faith, Ft. King, Highlands United, Hodges Boulevard, Mayport, McIntosh, Orange Park, Trinity, Palatka and Ocala First churches were all able to increase their pledges at a level that more than offset the four churches that had to decrease their pledges in 2014.  It is a first step in the right direction and we are grateful to God that everyone took the process seriously this year.  More important than how much you committed to the work of the larger church is the fact that you took that conversation seriously.  Forty-five of our churches reported commitments unchanged into 2014, which is actually a positive sign for this presbytery right now.
We will hear more about the stewardship of God's resources in the coming months as we prepare for what God has in store for us next.  We will have serious discussions about what it means to be a presbytery and how we must support the work that belongs not only to God but to us as well.  We will discern how God wants us to do ministry in our local contexts as well as regionally and globally, and we will listen to God's word.  We have been put here to dress, till and keep the earth. How we do that together is how we glorify our God.
Peace and grace to all of God's stewards,
Steve