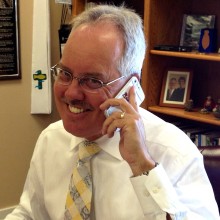 Greetings neighbors and friends in the community that is the Presbytery of St. Augustine, in the name of the one who has brought us into covenant relationship together, Jesus the Christ!
We had a conference call, preliminary meeting last week with all of your commissioners and delegate to the 221st General Assembly of the Presbyterian Church (U.S.A.).  I am afraid I did most of the talking but this was orientation and it's always hard to have a conversation on a conference call, but it was a good meeting nonetheless and these seven servants of the church are making their plans to be in Detroit on your behalf in June. The level of detail that we covered is pretty minute and it is just the beginning. It is my prayer that all of you are in prayer for this group, now and for the next four months, and then for the balance of their terms as they represent the work of the General Assembly back to us on their return.
But a question has entered my consciousness this week that I want to address.
Just what exactly is the "General Assembly" anyway?
I mentioned in my last article that the General Assembly of the Presbyterian Church (U.S.A.) meets this summer in Detroit and that we will be having conversations about the future of our church life together. It has come to my attention that when I say things like that, I make an assumption that everyone reading this article knows what the General Assembly is, why we have one, what it does and how it works. I have come to understand that that is not a good assumption and that even those of us who do know what it is and what it does may have differing understandings of that. Even seemingly simple concepts to some may just baffle others. So here goes.  
As you might expect, a General Assembly is a lot of things, but it is primarily an assemblage, a gathering of Presbyterian Christians from all over the United States. Much like the presbytery, which is made up of all of the minister members within a certain geographical region and a specified number of ruling elder commissioners from every church within that region coming together to meet, the General Assembly really only exists as an active entity during its meeting. Each meeting of the General Assembly lasts for eight days in the summer and occurs every even numbered calendar year. The meeting attendees (called commissioners and delegates) are elected from every presbytery in the United States and Puerto Rico and commissioners consist of exactly one half ruling and teaching elders. Delegates to a General Assembly are from our ecumenical partners, our seminaries and each presbytery is encouraged to also send a Young Adult Advisory Delegate (YAAD). Delegates have voice and can vote in committee meetings but do not vote on the issues being decided in the main debates.
Each presbytery, by its own rules, selects these commissioners and sends them to the meeting. The Presbytery of St. Augustine sends three each, ruling and teaching elders, and one YAAD to each meeting of the assembly and there are a total of over 500 commissioners and delegates attending each meeting.
[An aside: I served the Presbytery of Greater Atlanta in 1993 as a commissioner, my daughters have both served as YAADs. We all attended other meetings as observers and Cindy has observed several assemblies but has never been a commissioner. It remains one of my greatest privileges to have served in that way, and it is a wonderful part of my job here to serve your commissioners while they are preparing and attending these meetings. Just sayin.]
There is virtually no overlap of commissioners or delegates from one meeting of the General Assembly to the next and most commissioners only attend one assembly in their lifetime as a commissioner. Decisions that they make during the week they are in meetings are to be informed by the Holy Spirit and that is an amazing process to watch happen. The one thing they do not do is represent the presbytery, at least not in the truest sense. No one is to instruct our commissioners how to vote ahead of time and they are not sent to represent the interests of the Presbytery of St. Augustine. They are truly to seek the will of God in all of their deliberations. Almost every commissioner comes home from a meeting of the General Assembly both exhausted and exhilarated by their experience, all glad it is over and glad they got to participate. And I have never met one whose sincerity I doubted about the votes and opinions they expressed while serving God and Christ's Church.
The actions of the General Assembly can also be difficult to understand sometimes, even for seasoned veterans of the process and students of all things Presbyterian. I will share more about that in my next article, as well as many of the other things about an Assembly (worship, exhibits, presentations, collegial gatherings) that make a General Assembly like a Presbyterian family reunion. The thing that I hope you will take from all of these thoughts on our church is that we are constantly evaluating ourselves in light of what God expects of us, and never assuming that we have finally gotten it right and don't have to think about it ever again. We are frail human beings and fall short of the glory of God, so it is incumbent on us to constantly ask, "God, what would you have us do now?"
Steve