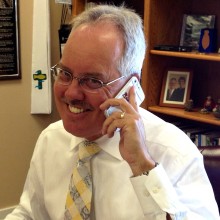 Dear friends and fellow servants of the Lord,
Greetings in the name of the One whom we serve together in this time and place, Jesus the Christ!
We are in the midst of conversation in our church, the Presbyterian Church (U.S.A.).  That is a good thing and a state that we should always be in together.  Conversation.  Our polity is clear that we are a reformed people, always being reformed anew by the power of the Holy Spirit, and the way that God reforms us is through our holy conversations.  We are the people of God, the children of God, whom God so loved that Jesus Christ lived and worked and ministered among us so that we might know God and know our own sin and salvation.  And the great good news in that is that God is still among us, guiding and instructing and aiding us to be the Church of Jesus Christ that God intends.
So we have conversations and conversations and more conversations.  There are conversations going on in the church right now that have some of us very concerned about our future, and I think we need to acknowledge our own emotions around and explore what these conversations mean to our communal lives together.  We have just recently elected our six commissioners to the 2014 General Assembly of the Presbyterian Church (U.S.A.), and we will be introducing you to them one by one in this space in the coming months.  It is their job to study the conversations going on and to work within them to discern God's will for this church.  It does concern me, however, that the very idea of conversation within the family causes us such great distress so far in advance of the conversation.  If we are truly to seek the will of God and invite the Holy Spirit into our lives, as we profess throughout our confessions, then we must trust that God will still be with us in any conversation we have about God's purposes for our lives.
It always surprises me what comes out of a General Assembly of the Presbyterian Church that someone may take offense at or be particularly passionate about, so I may miss something in sharing what many might say are the obvious issues.  In the coming months I will attempt to explore some of the issues in front of the General Assembly that might provoke diverse opinions, and will hope to engage in some dialogue around some of those issues.  Please also share with me whatever issues might concern you where I might need some enlightenment.
Our discussions in 2014 are just another in a series of conversations that Presbyterians always have and my purpose in writing this message is to help us all understand the reasons we have these conversations.  My purpose is to help us all engage one another in this conversation in a way that glorifies God and keeps us in fellowship with each other regardless of the twists and turns such a conversation may take.  My purpose is to help people know that the newspaper headlines may not tell the whole story and that the secular press will not quite understand how we Presbyterians do our work.  We are always, in all of our conversations, to be guided by the Holy Spirit and that can be difficult for an outsider to understand.  I pray that we will all engage each other in this process and understand why God has us talking about these issues right now, because we know that God is in the midst of our conversations.
One of the most poignant comments I have heard about an issue being discussed in the Presbyterian Church was made by an elder in a little church in rural Tennessee.  He said he is embarrassed when he goes to work on Monday morning and all of his friends from other churches comment negatively about something the Presbyterian church has done or said (or something they think we have said or done, because they are often not quite the same.)  My belief is that we need to do more talking and more educating the pastors, sessions and people in the pews about what is really going on in our conversations so that we can all go to work on Monday morning better informed about what it really means to be a Presbyterian and about the conversations that we are having.  While I was born Presbyterian, I have also been able to make choices over the years about whether I want to be Presbyterian, and I cannot imagine being anything else.  This is how I have experienced the love of God in my lifetime and I am blessed that I have been a part of the life of the Church of Jesus Christ through this particular denominational expression.  We don't always get it right, but we do always seek the guidance of the Holy Spirit, and we will do that again.
Watch this space for periodic writings on the workings of our particular church. There is much to learn and discover about what it means to be Presbyterian.
Peace and grace
Steve