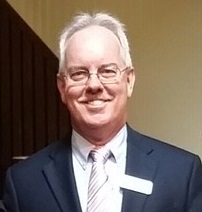 Dear friends in ministry,
Greetings to all who labor in the vineyard that we call the Presbyterian Church (U.S.A.), in the name of our Lord and Savior, Jesus Christ, the head of the Church!
The greeting above is important because one of the very foundations of our Presbyterian heritage, indeed of all of Christendom, is that Jesus Christ is head of the Church. Each of us who are ruling elders, deacons and teaching elders in the church promise to know and even internalize that in every aspect of our ministry as we serve God and each other.
In one week, we will take that understanding with us to Portland, Oregon, for the 222nd General Assembly of the Presbyterian Church and I trust that you will all be watching how we live together into our call to be disciples.
I should note right now that I love attending the General Assembly on your behalf. It is equal parts worship, work and family reunion, with a good dose of information gathering and networking thrown in. It is a celebration of what it means to be Presbyterian in this time and place, and we are at our best when we gather as a national body like this. Oh sure, there are disagreements and hard discussions, but then I think that is what makes us the church that God has asked us to be. If we don't talk about the difficult things that exist in God's creation, we cannot work to restore that creation. But those folks who have attended General Assemblies on your behalf will come home and tell you that they felt the Holy Spirit present in their deliberations, and that is why we gather.
Your commissioners this year are ruling elders Rick Kirby from Orange Park and Patti Phillips from Branford, teaching elders Laurie Furr-Vancini from Palms and Gabe Goodman from Community – Atlantic Beach, and young adult advisory delegate Lexi Green from Westminster in Gainesville. Sandra and I will be there with them (Sandra is serving as a parliamentarian for a committee and will work the floor during plenary sessions) to love and support their work, and we know of several folks from the presbytery who will also be in attendance as visitors. I solicit your prayers for them as they do this important work, guided by the Holy Spirit in all that they do.
And finally, I will be communicating with you regularly during the assembly to keep you posted on things that may be important to us here in the Presbytery of St. Augustine. Oftentimes, the national media do not fully understand or fully communicate what Presbyterians are doing at an assembly and my job will be to interpret for you. (An aside, the Presbyterian Outlook does a pretty fair job of telling the story and the Presbyterian News Service also gets it right.) I will tell you what our folks are up to, what work they are doing for God and you, and try to give you a sense of the work of the PC(USA). This will be my 10th GA and I am just as excited about this one as the first nine. Stay tuned……
Peace and grace,
Steve