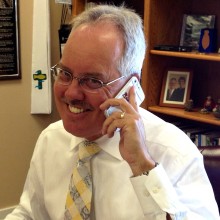 Dear friends in ministry,
I need a favor!
This newsletter is filled with good information about some of the many things going on in our presbytery and I get comments all the time from folks who read and love it. But there is an old saying,
"Information is not communication!"
This newsletter is a joint effort of your presbytery staff and submissions from our readers as they share stories about the life of our communities and congregations. It is a labor of love, and it is good information that we hope gets shared around the presbytery as we do ministry together.
You will find articles about the newest members of the presbytery, about Little Dresses for Africa, about stewardship in the most wonderful places, about how your sisters and brothers right up the road from you do the ministry of the Church of Jesus Christ. We enjoy sharing news from you about anniversaries and other special events. You will read about Montgomery Presbyterian Conference Center and about the Jamaica Ecumenical Mutual Mission that we have been a part of for over 30 years now, and about how they both need your support. You will read a lot of things worth sharing.
So, I need a favor.
I need for you, yes you, to share this newsletter with someone else in your congregation. This newsletter only goes out to about 800 of our 15,000 folks, and you may think that everyone else gets it. They probably do not. We mail it to our 150 pastors, our 60 clerks of the sessions, to all committee and commission members both past and present, but that is a limited number. It is mailed to any and all who have asked to be included over the years, and anyone who wants to may do so. (We do appreciate, by the way, the many churches who do use some of the articles published here in their own newsletters. They do sometimes get reprinted.)
We need for every pastor serving a church to forward this to your entire session – don't assume they already receive it ("Oh, I assumed because I got it that everyone got it!") We would be excited to hear that our pastors and clerks of session decided to forward the newsletter to church members and staff. Each reader could encourage another to sign up to receive the newsletter (there is a sign up button on our website and on each newsletter). Consider sharing the newsletter with your family, the folks who sing with you in the choir, and your Bible study group.
The information contained in these newsletters is not mind-blowing or earth-shattering, it is simply Presbyterians in northeast and north central Florida sharing the good news of the gospel with other Presbyterians with whom they are in covenant. (And hey, it would not hurt my feelings if you shared it beyond the walls of the church either.)
So please, do me a favor.
Make this, and all future "information," into "communication."
Peace and grace,
Steve