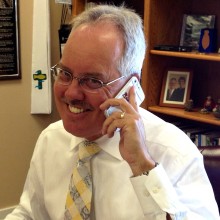 Greetings in the new year, in the new life that we find in the birth of our Savior, Jesus the Christ!
On my drive to work the other morning, I heard a report on the cold weather shelters that some of our area churches set up in Jacksonville Beach on an emergency basis, and I was reminded once again that the baby born to us this Christmas taught us to care for the least of these in need. I am grateful to God for all of the ministries that so many of you do to do exactly that, with no concern for your own wellbeing, and I hope that we might share some of our stories with each other at the next presbytery meeting. I was thinking, as I texted with friends in our former presbytery in Western PA (-8, wind chill -31), how fortunate we are to live where "frigid" temperatures are in the 20's, and where it will be in the mid 70's by the weekend. I was gloating a little, I have to admit, until I heard that report, and it reminded me of the reality of the world Christ has asked us to serve. Thanks be to God who enables us to serve, and who asks us to be the hands of Christ to those we serve.
I worshipped on Sunday with two congregations in the same church building, and was lifted by them both. The Kirkwood church in west Jacksonville has welcomed a new pastor who will be installed this coming Sunday (2:00 PM, Kirkwood, reception to follow, and these people know how to cook), and it was a thrill to see the new energy in that place as we worshipped God. Then, at 11:30, the Nueva Esperanza congregation worshipped for the first time in that same space, and I was again inspired as we celebrated at table together in both Spanish and English. A good group of Kirkwood folks stayed to worship as well, and the fellowship of these two congregations is such a blessing to see. They are in the beginning stages of sharing space in the Kirkwood facilities, and your Committee on Ministry will be walking alongside them both on this new journey. It was wonderful to be there on the first Sunday of what we all pray will be a wonderful relationship.
I have alluded in the past to new Presbyterian Hymnals called Glory to God, and many of our congregations have ordered them and are using them already. I do NOT shill for anyone, just so you know, but it is fun to worship with this new thing in the pews of so many of our churches. But then, I am a fan of the "old" blue Presbyterian Hymnal too, and love to just sit sometimes and thumb through it. There are, of course, familiar hymns in them both that I loved to sing in Montreat around the grand piano in the lobby of Assembly Inn on Sunday nights. There are also, in them both, new and exciting hymns for me, and I love especially to sing some of the hymns in Spanish when I can (my Spanish is terrible, it takes me a time or two, but it is so fun sometimes). All to say, and finally to my point, some of the churches who have purchased the new Glory to God hymnal are hoping to share their blue hymnals with other congregations who might want or need them. Let me know if you are wanting to share and if you would like to be shared with, and I will put you together.
And finally, prayer. The Presbyterian Mission Agency office in Louisville has begun a relationship-building practice that I have benefitted from and really enjoyed. Ray Jones, Coordinator of Evangelism Ministries, has volunteered to pray for and stay in touch with me and our presbytery as a part of our connectedness as Presbyterians. He calls me at least quarterly to see how I am personally, how the presbytery is doing, and he prays with and for us all. I feel blessed by that and want you all to know you are loved and cared for outside the bounds of this presbytery. And I want to commend that practice to you all in this new year, to find a pastor or an elder of another church and pray for him or her directly and purposely. And then let them know it.
It is a new day in the Presbytery of St. Augustine, and together we are the body of Christ. Thanks be to God for your witness and work.
Peace and grace
Steve