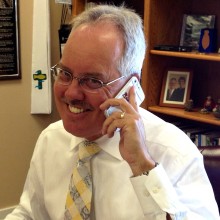 Dear friends in ministry,
We did it again yesterday (July 12 as I write this.)  We ordained another teaching elder in the Presbyterian Church and asked her the questions that all candidates for ordered ministry (elders and deacons) answer when we take the vows of ordination.  Among those questions, I continue to think the most important one is "Will you be a friend among your colleagues, working with them, subject to the ordering of God's Word and Spirit?"  We ordained the Rev. Cheryl Gans yesterday, we re-commissioned ruling elder Tommy Lane at McIntosh three weeks earlier, we will install John Diller (Orange Park) and install or commission other pastors in the coming weeks and months, asking that same question of each of them.
Will you be a friend among your colleagues?  There was special music yesterday at the ordination service and the preacher of the day highlighted some of the words of that song in her sermon.  The verse that came through clearly to me was:
"Let me turn and follow you and never be the same."
How appropriate for a service of ordination, installation, commissioning.  We focus sometimes I think on the "follow you" part of sentences like that and suddenly it hit me yesterday that the second part of that sentence is utterly profound.  We often think about our sins as we come before God, confessing our sinfulness and rejoicing in the assurance that our sinfulness does not separate us from God.  We pray that we will be better persons because of that assurance, but we are also aware of the reality that we are powerless to bring about our own salvation.  But sometimes I think we do not quite understand that even though we cannot achieve salvation, we are still to respond in positive ways to what it means to follow Christ into church service…
"..and never be the same." 
When we take the ordination vow to be a friend among our colleagues, we must listen to the words that we speak and own them.  There was a very strong contingent of teaching and ruling elders at the ordination service yesterday afternoon, welcoming Cheryl into their fellowship and celebrating this passage in her life.  I expect there will be a good turnout of clergy friends at the two memorial services planned this week in Dunnellon and Jacksonville for the mother of our friend Jeff Welch, even during vacation time.  I pray that the folks near Orange Park will reach out to that congregation's new pastor, that the folks around the presbytery will find ways to get to know the new pastors in our midst, and that all of us will find ways to be a friend among our colleagues.
In that regard, it is now time for our teaching elders and commissioned ruling elders (which includes all those certified to be commissioned and all teaching elders serving Christ outside the parish also) to get serious about scheduling yourselves to be with your colleagues in ministry at the Pastors' Retreat across the three days of October 19-21, at the Amelia Island Plantation.  Our leader in this event will be Rodger Nishioka, professor at Columbia Theological Seminary, and a friend (there's that word again) to many of us.  If you don't yet know Rodger, ask one of your colleagues about what a fun event this promises to be.  The cost will once again be just $100 for two nights and two dinner meals (and we have scholarship dollars too!)
Ordination to ordered ministry is a special privilege and bond.  We are servants of our Lord Jesus Christ, and servants of Christ's Church, and we have all promised to be a friend among our colleagues, and that is a vow that I hope we all take seriously.  We do differentiate the two categories of elder and the office of deacon because the offices are different, but that distinction does not really exist when it comes to being a friend.  It is important in the Church of Jesus Christ that we exhibit the love that Christ commanded us to show, so that people will know that we are Christ's disciples…
"…and will never be the same." 
Peace and grace,
Steve