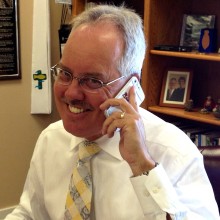 Stewardship!
There's that word again.  I wonder what the word conjures in our brains and our hearts, and I wonder often whether we fully understand all that it means.  I have had several brushes with the word in the past few weeks and I continue to be surprised by the depth and scope of what the word means to different people.
Service to the Larger Church
We recently attended the graduation from Columbia Seminary of our daughter Bethany and son-in-law Matt, held at the Peachtree Presbyterian Church in Atlanta, GA.  On the stage, handing out diplomas and handshakes and hugs were the acting President of the seminary and the chairman of the Board of Trustees.  It was inspiring to me to note that these two individuals are both from the Presbytery of St. Augustine.  Bill Scheu, immediate past chair of the Board of Trustees took on the role of acting President of the seminary when Steve Hayner became too ill to continue to serve.  Bill is a ruling elder in our Riverside Church here in Jacksonville.  The new board chair, the Rev. Dr. Tom Walker, is the pastor of our Palms church at Jacksonville Beach.  Both give their time and energy in this way to be stewards of the larger church family, like so many of us do.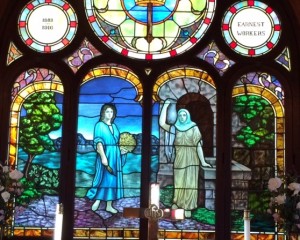 Earnest Workers
I was worshipping at Kanapaha recently and took some time to walk around this 140 year old sanctuary.  Kanapaha is one of our five oldest congregations, organized in 1857 by immigrants from South Carolina.  
I paid special attention to the stained glass window in the front of the sanctuary, which was brought to Kanapaha from First Gainesville after that structure burned (way before our time, of course.)  The window is a simple picture of two women, working in a field (possibly Ruth and Naomi), and has inscribed the simple words EARNEST WORKERS.  I was struck as I listened to all of the things going on in that small (in numbers but not in strength) congregation and thought about how apt that description was for them.  And I thought, what a great image of the church as a whole, that our job is not only to come and glorify God on Sunday morning but to be those Earnest Workers in the mission field that God then lays out before us, so that we may glorify God through our stewardship in the world.
Kay Beckman Scholarship
Presbyterian Women (PW) in the Presbytery of St. Augustine do amazing and wonderful work for God's world, too many things to mention in a single article even if the whole article were exclusively about PW.  One thing that they do for the future of the church is to support the students of the Presbytery of St. Augustine as they pursue a career in ministry at one of our seminaries.  Kay Beckman Scholarships are awarded to second and third year students to help offset some of the expense of attending the schools that will prepare them to be our future Teaching Elders (see Larger Church, above).  One of the things we know about Presbyterian Women, however, is that some of our congregations do not have chapters for a variety of reasons.  The PW planning team would like for some of those congregations to consider whether they might join our Presbyterian Women in supporting the Kay Beckman scholarship financially in their upcoming budget.  The future of our church will brighten for our students as we support them both spiritually and financially.
Jamaica Ecumenical Mutual Mission (JEMM)
The Presbytery of St. Augustine cares deeply about this important ministry in at least two ways.  First, our people continue to maintain strong connections with our partners in Jamaica and visit the island nation four times each year in honoring God's call to love and serve.  We have another group leaving on June 14 to do some medical and dental work, along with some construction on houses.  Our stewardship commitment is to our relationship with God's people there whom we have come to know and love over our 30 year partnership.
The bulk of the funding for our JEMM work comes from endowments that we contributed to many years ago.  There is one ongoing giving opportunity, however, that we all may participate in surrounding our Jamaica partnership, and that is our Two-cents-a-meal program.  Many of our congregations participate but the hope is that more will come alongside, and possibly even make this a five-cents or ten-cents program.  (Two-cents was first proposed in the 1980's, and inflation has made that number inadequate in 2015.)  We can all participate easily and well by adopting this program, and ensure that our partnership stays strong.
Montgomery
Summer Camp is beginning this month!
We are stewards of many things at Montgomery.  Yes, we are financial stewards, and our finances at Montgomery remain a challenge (a challenge that I feel confident we are up to as a presbytery).  But we are also stewards of the environment that God has put us into the middle of, and it is fascinating to watch our counselors and campers, as well as our folks who use Montgomery as a meeting place, interact with the physical environment.  We are also stewards of our staff and our resources, living into God's call to care for creation.  So much of that call to stewardship is embodied in Montgomery Presbyterian Conference Center and it serves as a reminder to us that all of creation is ours to steward for our God.
Stewardship
My favorite word.  And here's the thing that I think is crucial in our discussion of the stewardship of our resources and of God's world.  As leaders in the church, it is our job to lead folks toward good stewardship, and to set examples of that stewardship for them, so that all will understand that stewardship is not just something that we "do" in its own "season."  Stewardship season never ends.  And the coolest part of all of that?  God allows us, blesses us, depends on us, to steward the gift of God's world.  God so loved the world, thanks be to God.
Peace and grace,
Steve