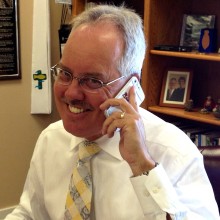 Dear friends in ministry,
Your presbytery met last week to worship and do business …..and mission and fellowship broke out! Hallelujah!  
A presbytery is an interesting "thing"! I have sometimes struggled during my service to the Church of Jesus Christ to define a presbytery, both before and after I became a presbytery executive, because a presbytery is not simply a thing, or a place, or a body. You would think I would have a good handle on that by now, but allow me to illustrate. A solid definition can be elusive.
For the Presbytery of St. Augustine, it is the churches and the people of the congregations, whether they are serving their communities or meeting together in stated meetings, committees or task forces to discern God's will. Recently it has been the gathering of clergy, robed and wearing white stoles, at the funeral of a dear colleague. It can be the session meeting where you elect a commissioner to the next presbytery meeting or a nominee to serve as General Assembly Commissioner. Presbytery is where pastors meet for lunch one-on-one or in groups, and it is when Presbyterian Women gather for business, study and fellowship. Sometimes presbytery is the work in the office in Jacksonville or the visits your staff are honored to make in the congregations. And always it is about serving God.
Some entities seem to be one thing, but a presbytery by its very nature is a lot of things – in 60 different locations and at Montgomery and in the places where our Mutual Mission Committee serves.
It is a joy to experience so many of those things alongside you (I tell people that is the best part of this job, and it truly is.) Already in 2015 I have experienced the presbytery in action as:
• Together we ordained and installed Charles Freeman in our Grace church in Gainesville (yes, you did that, the Grace church did not do it for you, that's the way we do things) and we similarly installed George Head into our church in Palatka.
• Our Highlands United church (the one in Jacksonville) celebrated 50 years in ministry. Highlands is one of only a very few congregations ever organized by the United Presbyterian Church (USA), a denomination that only existed for 25 years.
• We celebrated again the work of our Presbyterian Women as they gathered in their annual meeting, this time at Woodlawn. This is one of my favorite gatherings.
• We hosted our friends from Jamaica with whom we have been in partnership, doing ministry in both Jamaica and here in our presbytery together, for over 30 years.
• We gathered in small clusters in churches throughout the presbytery in January to discuss the inner workings of our denomination as we wrestled with issues great and small that concern us all.
• Nearly every session in the presbytery has now been visited by a Holy Listening team to find out what excites you and what concerns you about your church and your association with the larger church.
• We "kirked the tartans" at our St. Giles church (my second kirking since I have been here. Troy did not wear a kilt but Hunter Camp did when I was at Memorial last year. Good times.)
• The congregation of the Korean Church of Jacksonville took an important step in electing its Nominating Committee that has prepared a proposed slate of ruling elders to reconstitute the session of that church. This is a step towards the completion of the work of the Administrative Commission that the presbytery elected to walk alongside the church in its renewal.
• We welcomed a group of Columbia Seminary students to Ocala who led worship for us in six of the area churches down there, to wonderful reviews.
• We welcomed four new Teaching Elders into our midst (while we said goodbye to five).
• I have represented you at gatherings of the larger church both within and outside of our presbytery, serving you and serving the bigger community that is the PCUSA.
As you can see, the presbytery is a lot of things, and the things I have described in this letter just scratch the surface! The Discernment and Design team is continuing its work in finding the presbytery's identity, mission and focus and will be making recommendations regarding a new vision. It is a labor of love, and a wonderful chance to serve our God, who strengthens us and sends us out to "be the presbytery." The fun and messy and marvelous thing that it is. Thanks be to God.
Peace and grace,
Steve