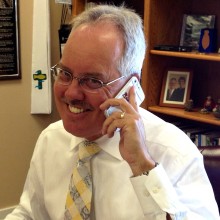 Greetings in the name of the one whom we serve, and the one who serves us and all of God's creation, Jesus the Christ!
So here we are, nearing the end of the season of Lent, trying to either remember what we said we would give up for Lent or to think about what that new discipline we have adopted is meaning to us right now. Forty days is a long time to maintain something we are not used to, but perhaps that is the point. 
One new spiritual discipline that you have all adopted in some way this Lent is Holy Listening, and my prayer is that you have experienced this program of our presbytery in that way.  You have either done the training, set up your visit or actually accomplished the visit during this high holy season, and the anecdotal evidence thus far is that the visits are going well.  Several of you have indicated that your visit will be done in April, during Eastertide, and I think that is fitting also as we journey from the empty tomb toward Pentecost.  We are visiting each other's church home, the place where the Holy Spirit lives still.
I offer this thought to each of you engaged in this important ministry for the Presbytery of St. Augustine, our collective church home.  The visit that you undertake will make a difference to you and to the session members that you go to listen to, and ultimately to the churches and then to the presbytery.  I have been amazed, yet again, at the buzz that this project creates, and I believe that our sense of connection to each other will be evident in the way we gather in the future.  I hope to see folks at the next presbytery meeting in May checking in with the folks they visited to see how things are going, and probably to share the noon meal together.  This is my prayer for us.
And let me tell you why I am optimistic about all of this.  Two reasons really.  First, you really are a good group of folks and I think that you will like each other a lot once you get to know each other. I mean that in all seriousness, it has been my good fortune to have landed here to serve you and I bring the experience of three presbyteries with me where you cannot necessarily have said that as a blanket statement.  (Yes, I know, some of you already have good strong relationships regionally, you do know a lot of folks there, but overall we can still do better in building relationships and being friends.  And in strengthening those relationships we do have.) 
The second reason is that we are humans, created by God to be in community.  We have a strong need to connect with others and the church is our place to do that.  We have an equally strong need to grow outside of our own cocoons, to be a part of something larger than ourselves and to make a difference in God's creation.  I think that need is so fascinating and I hear it all the time everywhere I travel to the churches of the presbytery.  In the reports that I have read so far, that need is expressed with great joy and hope for our future together.  And then, friends, we learn of the great good news that God allows and expects us to participate in creation, alongside our neighbors.  Hallellujah!
So during this Lenten season, as we proudly and humbly, loudly and reverently worship our God, my prayer for us all is that being a part of the lives of people you did not know a month ago will bless you and them equally, and serve the Church of Jesus Christ into the future.
Peace and grace,
Steve