Greetings neighbors in the Community that is the Presbytery of St. Augustine,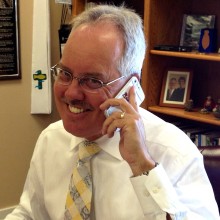 The Reverend Doctor Joe Small, recently retired as the Director of the Office of Theology and Worship of the Presbyterian Church (USA), was honored at the Presbyterian Outlook luncheon in Detroit for his years of faithful service to the denomination.  In his remarks, Joe said the following to the assembled friends and admirers.  "The Presbyterian Church embarrasses me sometimes, it angers me sometimes and sometimes it frustrates me.  But it is also the church that brought me to faith, the church that nourishes my faith and the church that exhibits Christ to me.  It is the church that loves me and the church that I love."
I saw Joe in Louisville last month while Sandra and I were attending the meeting of presbytery leaders that is our annual visit to be in community with Presbyterians whom we love and who love us.  If you have never been in a big hotel ballroom filled with Executive Presbyters and Stated Clerks, you have not lived! (Wow, am I a geek or what!?!)  These are our friends who work for you in Louisville and around the globe doing the ministry of the Presbyterian Church on your behalf.  We learned about things like New Beginnings and 1001 Worshipping Communities, along with more traditional ministries that the church supports in every corner of the world.  We visited with folks who are on the other end of our phone lines every day, answering our questions about the work of the Committee on Ministry or the Committee on Preparation for Ministry, or any number of other things that occupy the work life of your Executive and Stated Clerk.  
I was especially grateful to be able to visit with so many of my colleagues in mid-council leadership, to find out what is happening in other places around the country and to check my own thoughts and ideas of ministry against seasoned professionals.  It is always good as well to meet new Executives, new Stated Clerks who will be a part of our lives going forward.  (I have made five phone calls to Executive Presbyters from around the denomination just today, for example, for one of our search committees.  I sat at table with each of those EPs in Louisville at some point, and they are good friends.)
One of the two learnings that were most important to me was the ideas around transition for the Presbytery of St. Augustine.  Two different consultants brought two different perspectives to the table about how to work with our Transition Team going forward and I am anxious to share these ideas with our steering committee.  And the second learning was what I experienced during worship.  We used the new Glory to God hymnal for all of our worship and I was amazed at the breadth of music and theology found in that volume.  (I really don't intend to shill for the new hymnal, but the more I get to use it and sing out of it, the more impressed I am by the scholarship and love that went into it.)
I am thrilled to be able to count myself a friend of Joe Small and so many saints of our church, through the Church of Jesus Christ, and I echo Joe's statements.  I may get frustrated and worn down by this church on occasion, but the Presbyterian Church is where I experience the love of Jesus Christ, in Louisville and in Jacksonville (and Gainesville and Ocala and Fernandina Beach and Perry, and all points in between).  I am grateful to God for the opportunity to serve this presbytery in ways that put me into community with folks like Joe Small and Sandra Hedrick, and each and every one of you.
Peace and grace, Steve