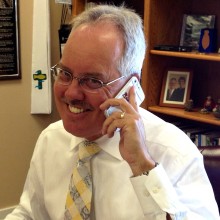 Dear friends in ministry,
There was a sportswriter for the Atlanta Constitution named Furman Bisher who used to write a daily or weekly column about sports and the world. Occasionally he would fill an entire column with small stories or factoids or whatever was on his desk that he had always intended to write about but had never made it into a full column. I feel kind of like that right now so this is a newsletter article of snippets that are floating in the air of our presbytery. Perhaps some of these will raise questions to be asked as we move ahead.
TRANSITION
The Transition Team steering committee presentation at the presbytery meeting included a model for Holy Listening that will be rolled out over the next two months, to be implemented in February and March (training in January, stay tuned). It will involve every church, every teaching elder and at least 62 ruling elders in visiting the session of your nearby neighbors to learn more about them and how we might become an even more vital, alive and connected presbytery. It sounds and looks massive, and it is, until you break it down to say "We need you to do just ONE thing, ONCE." It will be exciting so look for more information on this.
TRANSITIONAL EP
The presbytery has asked me to serve you for another two years and I have accepted that call, very gratefully. I still marvel that God has seen fit to use me in this way in the Church, and am humbled by that notion. It is a privilege to serve the presbytery of St. Augustine and I am honored to call you all friend. I will do my best to fulfill your trust these next two years as we continue to discern the path that God has set for us. I recall the words of the hymn Spirit at times like these where it says "You call from tomorrow…" God is already out there in tomorrow, calling to us and we faithfully follow.
STEWARDSHIP and the BUDGET
The presbytery received the asking budget for 2015 last week and the question was asked, "Why isn't it balanced?" The answer is because it is an asking budget, not a final budget, and the income side of the ledger needs to be addressed in the next few months. An asking budget deals primarily with the expense side of the equation and seeks support for the necessary expenses of our year. It is up to each church in the presbytery to discern what God is calling you to do about your own stewardship and then to respond to the asking budget to make it balance. The "Income" amount is simply the 2014 pledges. The 2015 pledges must increase by about $1.25 per member across the board to cover the asking. Stay tuned here also.
MANDARIN DISMISSAL
The presbytery voted overwhelmingly to say goodbye to friends in the church whom we have known for 50+ years, and there was sadness in that. The Administrative Commission (AC) tasked with dealing with the dismissal gave us their conclusions about the difficult work they had done (as well as the prior work of the Crisis Response Team (CRT)), and the final outcome was a vote to dismiss. A key element in the discussion was the written "preface" to the church's theological concerns and the AC's response, and I commend that for your reading so that you will know some of the work that your CRT and your AC did on your behalf (click here). I confess my own sadness and feeling of helplessness, but I also affirm my belief in the strong Presbyterians who make us this presbytery. I am particularly proud of the seven wonderful people who served you all so faithfully on the Administrative Commission, and of the six faithful Presbyterians who preceded them on the CRT, and take away the strong knowledge that these folks have a new bond with each across congregational boundaries that will be with them forever.
CLERGY RETREAT
Many of your pastors were away together on retreat this week and the experience was marvelous. There should be pictures up on Facebook if they are not already. We spent time in worship and prayer, in workshops and free time and activities all around the island. I am appreciative of those who planned this event, of the sessions who sponsored their pastors to attend, of the person who scholarshiped others to be able to attend. It was a wonderful start to an important part of our collective ministry, to be a friend among our colleagues. We are committed to doing it again next year, with more notice.
Clean desk – and by the time you read this, I will be in Louisville for five days. Whew!
Peace and grace
Steve